Over the years I've tried countless applications and methodologies for language acquisition. When I first arrived in China over ten years ago I wrote down everything I learned in Moleskine notebooks, first with pinyin (romanized Chinese) and later with characters. After committing to this practice for a few years, I found myself with about six notebooks filled with Chinese. I had learned a lot, but by that time the iPhone had been released, apps were being developed to learn languages, and the methodology which I had used for years was starting to look obsolete. Since then I've tried dozens of different tools and applications. Most of them I discard, but I'm always looking to switch to something more effective.
Recently a new tool came to my attention called Glossika. It's an audio and sentence-based tool for rapidly improving your language skills. Glossika supports an incredibly wide array of languages – 58, in fact, as of publishing this blog post. Some of them are very obscure, like Hakka, a regional dialect in China which is very difficult to learn because there are almost no resources available for learners.
So I dove into Glossika, to see what benefits it could bring me in achieving my language goals. In testing Glossika I used it for Chinese (Beijing dialect – they also offer Taiwanese), German and Japanese.
How Glossika Works
Glossika is based on audio and sentences. You advance through thousands of native sentences offered on the platform, through what the app calls "Reps". You set a goal for a certain number of reps each day, and through seeing and hearing natural sentences in your target language, they are committed to long term memory. Glossika is a web-based tool, which does not offer an app, and works via a subscription model which costs $30 per month, or $288 per year. Unlike some other language learning programs like Duolingo or Memrise, Glossika is made for more committed, serious language learners. It is not made for beginners, as is explained below.
With a free account, you can study up to 1,000 reps in any language, before you hit a pay wall. But once you pay for the service, the full feature set is unlocked:
Dictation: listen to a sentence in your target language and input the text with your keyboard
Recording: using the microphone on your computer, record your voice speaking after a native speaker
Multiple choice: designed to improve transcription-reading skills
Fill in the blanks: identify one word in a sentence to better understand sentence structure
How long it'll take you to learn a language depends on your skill with language acquisition, the difficulty of your target language, and how committed you are. But Glossika provides some helpful guidelines for creating a goal and setting a timeline: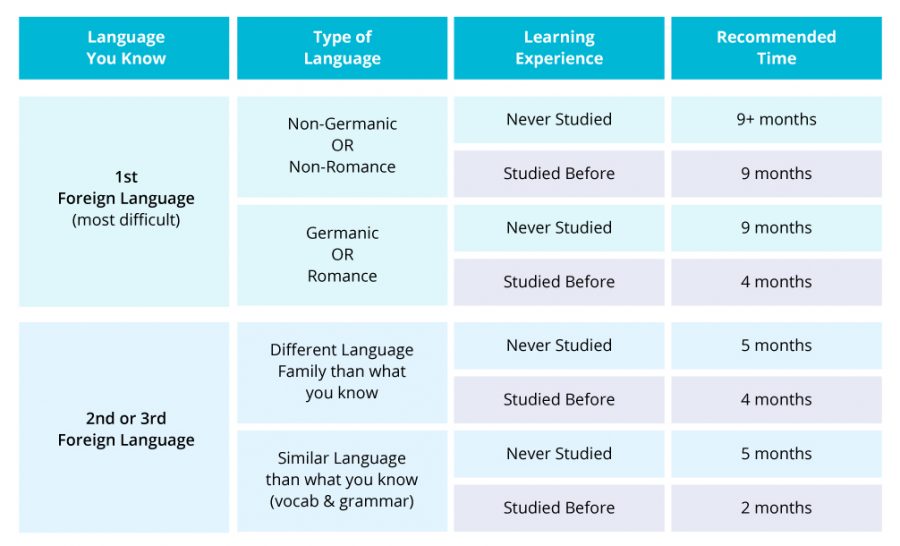 Once you become a paying member, you have access to every language offered on the platform. This is an enormous amount of content to have access to, but because Glossika is not made for beginners, it's not a great place to start with a new language. Jumping straight into native sentences in a new language will skip over important fundamental aspects of learning a new language, like internalizing the sounds and basic grammar rules of the language. Glossika is clearly made for intermediate and advanced learners. There is a Glossika Guide which provides answers for many of the most common questions you'd have about the platform, but the real reason to use this tool in particular is because it builds speaking confidence. For most people, this is the underpin of practical language learning.
I'm torn on Glossika because in some ways it's a powerful tool which has no peers, and in others, it is incomplete. It is purpose-built for a very specific usage case: learners who can speak a language but want to build confidence in their skills through exposure and repetition with native sentences.
Here's what I've come away with after switching from Anki to Glossika for about a week.
The Benefits of Glossika
A massive collection of natural sentences, spoken by native speakers, in 58 languages. Support for languages that you might not be able to find anywhere else.
Neatly contained within an online application. It's clean. There is nothing to download or configure – unless you want to, then you have a lot of options. This is a huge plus over the tool which I've used for years, Anki, which is arguably the most powerful learning tool you can get, but comes with a brutal learning curve. It's hard to overstate the value of having a powerful tool like Glossika which remains approachable.
Based on real science. The founder and CEO of Glossika is a Western expat who achieved fluency in Chinese, and is a noted polyglot (master of many languages).
The Downsides of Glossika
Does not teach grammar at all. By its own admission, Glossika is a "supplemental tool" for foreign language acquisition. This wouldn't be an issue if the app weren't charging $30 a month, which will price it out of the supplemental tool category for many language learners.
No app. If you're used to learning with a phone or tablet, you'll have to go through the browser, which is a usability downside.
Intimidating for beginners. Glossika is upfront about their focus on intermediate and advanced learners. But it stings a bit to pay for access to dozens of languages and have them be effectively useless to me since there is no beginner content available. I would love to dip in and out of many languages but that is not possible here.
No particular focus on tones in Chinese. This is specific to me and my learning situation, but considering the founder himself is a Chinese speaker, I would expect this to be part of the suite since it is probably the most difficult obstacle for Chinese language learners. In Anki, for example, I color code sentences and vocabulary to reinforce tones. If you speak Chinese and use incorrect tones, you will be frequently misunderstood.
Conclusion
If you're an intermediate or advanced language learner, Glossika is worth checking out. It'll cost you nothing to give it a shot, and if it suits you, it's incredibly powerful. But it will not be for everyone.