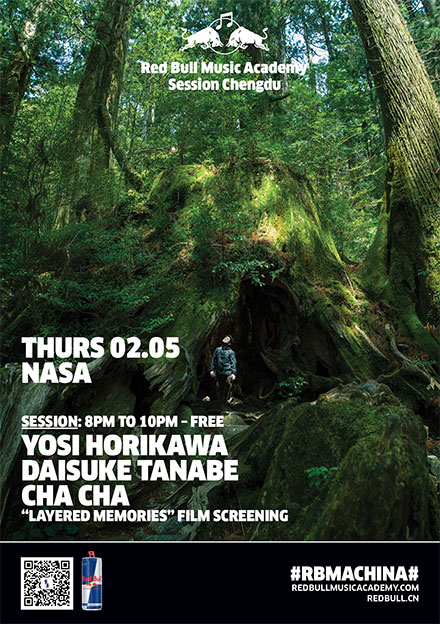 Last night there was an amazing Red Bull Music Academy event at NASA in Chengdu featuring Japanese music producers Daisuke Tanabe & Yosi Horikawa. Chengdu has never hosted an event of this type before: part instructional, part performance and partly social gathering.
I had never heard of either of these producers before, but their music and performance blew me away, combining natural sounds recorded in the wild with airy, ethereal rhythms and melodies. In one scene Yosi creates percussion by recording his fist slapping the peak of a mountain, and quickly turns it into a lush and beautiful composition.
The atmosphere was unlike any event that I've been to at Poly Center before (which is a notoriously chaotic and unorganized place). Virtually all of the mainstays of the Chengdu music scene were there, including musicians in bands who aren't really in the club scene.
This is the sort of event that happens in Shanghai much more often, since Red Bull Music Academy is established and has artists baed there. I hope that this is the first of more intimate events of this nature in Chengdu, with or without RBMA's involvement. They are important for the containing education of Chengdu's music scene, which is still in its infancy.
Two Photos from the RBMA Event
Layered Memories Trailer on Youtube
I also found a recently recorded live set performed by Daisuke Tanabe at the Red Bull Music Academy in Tokyo just a few months ago. This is also worth checking out as well.
Daisuke Tanabe Live Set from Tokyo RBMA
Lastly, here are links for both of these artists on Soundcloud to follow updates from them:
Yosi Horikawa on Soundcloud
Daisuke Tanabe on Soundcloud
This event was done in cooperation with Gaz and Cha Cha of the Shelter, two perennial advocates of China's fledging underground music scene. Much respect to Shanghai, RBMA, and NASA for making this happen in Chengdu. Especially the Austrian International Red Bull organization, including Adrian Lai, which was responsible for this event. NASA is now the first (and currently only) venue in Chengdu to buy real Red Bull.