Over the last five years transit via bicycle has become a major part of my life. I've not only gone more than a decade without owning a car – which I love – but I rarely even get in cars at all these days. The benefits of getting around with a bicycle are huge. It's great for my body, my spirit, my sense of connection with the city. I save a lot of money and genuinely enjoy getting around the city.
Switching to a bicycle won't work for everyone, it requires an amenable host city. Fortunately, Chengdu is great for cycling. I recorded a podcast with two friends who started a bicycle shop here in Chengdu and they described how they came upon this city to open their shop: through objective analysis of the city's compatibility with the bicycle lifestyle. Geographic size of the city, presence or lack of bicycle lanes, topography, and other factors. It's a great feature of living in Chengdu.
The city cruiser above is Dutch bicycle, called Van Moof. It is, in the classic Dutch style, an upright casual bicycle for getting around the city. It has standard size wheels, but extra large tired which are great for traversing roads which aren't perfectly smooth. It has some other nice features as well: a built in dynamo which generates electricity to power front and rear lights on the bike, and front and rear fenders to keep you clean when riding on wet roads. It is quite heavy, and not ideal for carrying up stairs. I carry it up stairs anyway, though.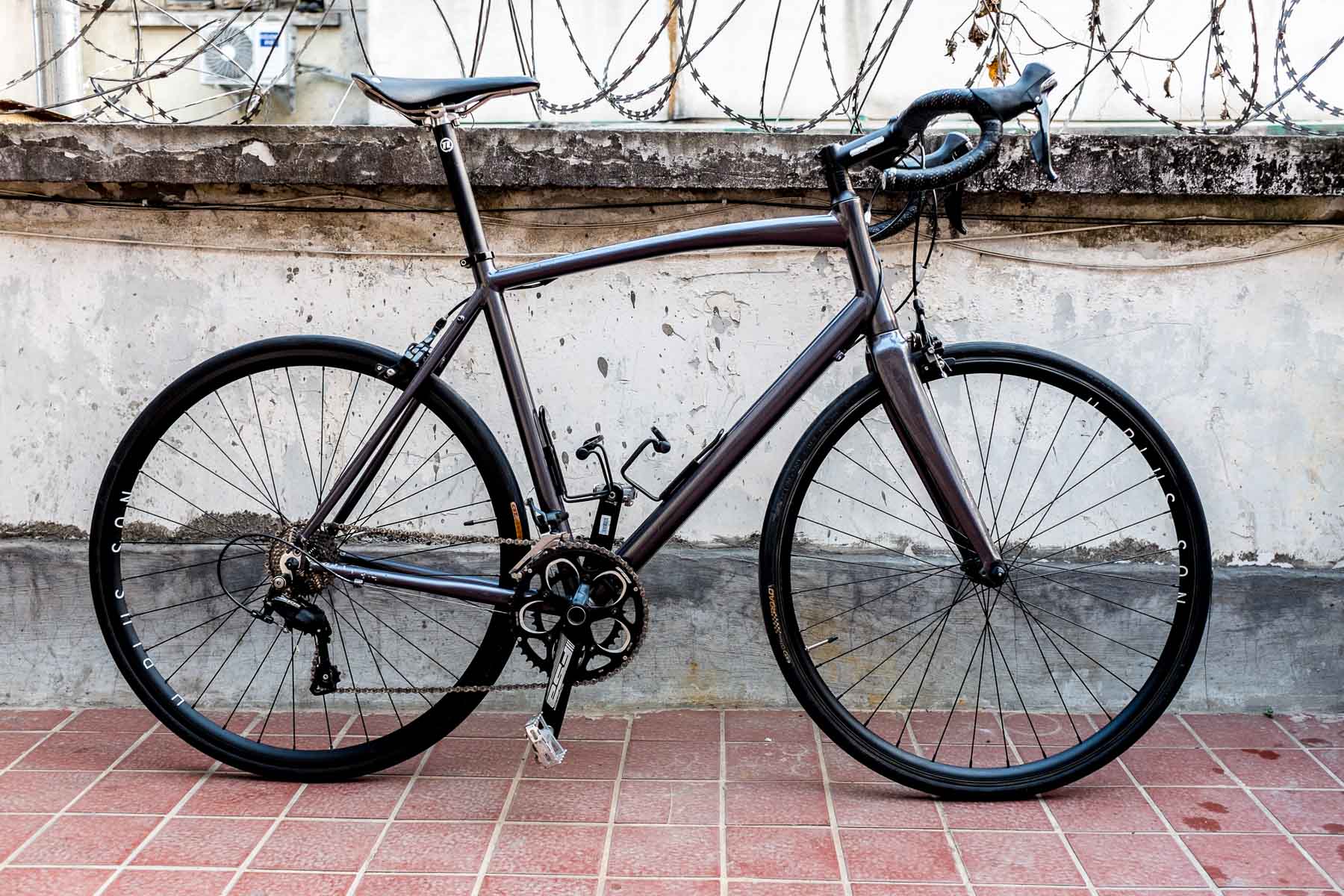 This bike, a re-painted and customized Novara Strada 5, has been my main bike for the last two years. I bought it off a friend (Johnny 5) who gave me a great deal. Novara is a fairly obscure brand (it is Rei's in-house brand) but it is a great quality road bike with Shimano 105 groupset. By default the frame is a tacky red and white, so I had Natooke paint the bike a glossy grey color. Now it feels like it's mine.