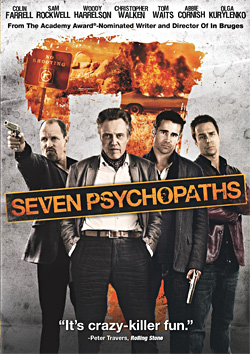 In this late-2012 film, Colin Farrell stars as Marty, a struggling writer working on a screenplay called Seven Psychopaths. As he struggles to make progress, his best friend Billy (Sam Rockwell) begs to work with him on the script. Together they assemble a cast of seven sociopaths, one who is based on a real-life serial killer who leaves behind a jack of diamonds card with each body. As they navigate a landscape of crazed madmen while completing the script, they encounter a coke-headed mafia boss Woody Harrelson and an eccentric, dog-stealing Christopher Walken.
When I was that this was starring Colin Farrell my first thought was "oh shit" – I'm still trying to forget 2012's Total Recall. He's surrounded by such a phenomenal cast in this film though, that his character being lame doesn't greatly detract from the overall movie.
The character who really steals the show isn't Walken or Harrelson, but sidekick Sam Rockwell. He starred in Moon a few years ago but I didn't recognize him from anything when watching this – I won't forget him now, though.
This movie is filled with great quotes and passages by quirky, flamboyant, memorable characters.
Rating:

Official Trailer: