A year and a half ago I gave away a Steam key for The Witness, an independent puzzle game by Jonathan Blow, on the RandomActsofGaming subreddit and asked a question: "What's your favorite game of all time?" That time I was giving away just a single game and got 138 replies, which I collected, tallied, and published in this blog post: Reddit's Favorite Games. Recently I decided it was time to do a follow-up, so I made a new post giving away 10 Steam games this time, and posed a similar question with a twist: "What's your favorite game under 8 hours?" My intention was to crowd-source a list of the best games which can be completed without a big time investment.
Here is some interesting data on the replies:
The post received 527 replies
170 different games were mentioned, ranging from games which I knew would be on this list (Journey, FTL, Portal) to games I had never heard of (Bouncing DVD: The Game)
47 games received multiple votes
123 games received a single vote
Here are the results.
The Most Popular Games
Portal blew away the competition with 27 votes, followed by Undertale with 11 votes, and a two-way tie for third place between What Remains of Edith Finch and Portal 2. This list consists of games which most will probably be familiar with, although Doki Doki Literature Club is surprising to see.
Games in this list: Portal, Undertale, What Remains of Edith Finch, Portal 2, Journey, FTL, To the Moon, Limbo, Brothers: A Tale of Two Sons, Bastion, The Stanley Parable, Firewatch, Oxenfree, Superhot, Doki Doki Literature Club
The Still-Popular Games
These all received more than one mention, but not enough mentions to make the most popular list.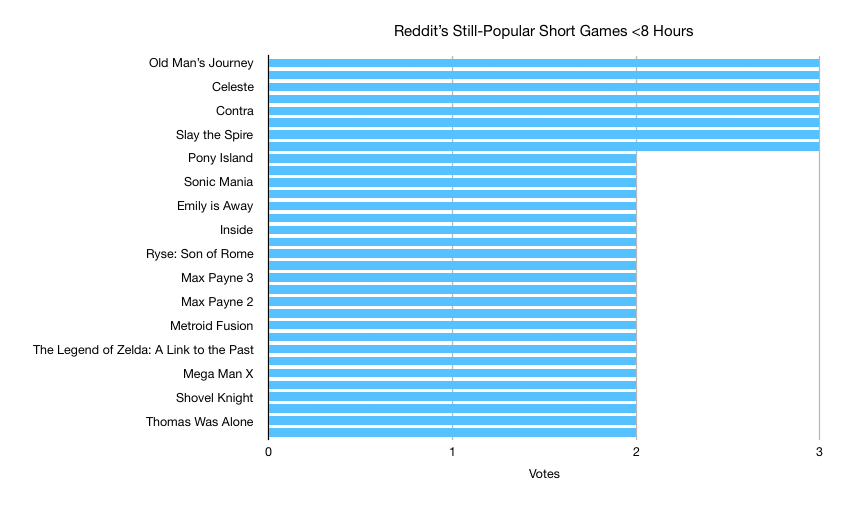 Games in this list: Old Man's Journey, Celeste, Contra, Slay the Spire, Pony Island, Sonic Mania, Emily is Away, Inside, Ryse: Son of Rome, Max Payne 3, Max Payne 2, Metroid Fusion, Legend of Zelda: Link to the Past, Mega Man X, Shovel Knight, Thomas Was Alone
The Rest of the List
There were 123 remaining submission, each with a single mention. These range from well known games to completely obscure. Here is the list, sorted alphabetically:
60 Seconds, A Way Out, Awkward Dimensions Redux, Alien Shooter 2: Reloaded, Among the Sleep, Antichamber, Aragami, Belladonna, Beyond Good & Evil, Bouncing DVD: The Game, Call of Duty: Modern Warfare, Call of Duty: Modern Warfare 2, Call of Duty: World at War, Centipede, CrossCode, Cube Escape Paradox, Cuphead, Dead Cells, Deponia, Detention, Don't Look Back, Donkey Kong Country, Dragon Quest, Duke Nukem 3D, Eternal Senia, Evoland, Fidel Dungeon Rescue, Freedom Planet, Friday the 13th (1989), Full Throttle, Ghost Trick, Golden Axe, Great Giana Sisters, Grow Home, Hacknet, Hakoniwa Explorer Plus, Hellblade: Senua's Sacrifice, Hitman, Hitman 2, Hue, Hyper Light Drifter, Illusion of Gaia, IQ Ball, Jill of the Jungle (1992), Kirby and the Amazing Mirror, Kirby Star Allies, Kirby Super Star, The Legend of Zelda: Link Between Worlds, Life is Strange, Little Nightmares, Mario & Luigi: Bowser's Inside Story, Mega Man 2, Metal Gear Rising, Metal Gear Solid, Metro: Last Light, MewnBase, Mike Tyson's Punch-Out, Momodora Reverie Under the Moonlight, Mortal Kombat X, Oregon Trail, Ori and the Blind Forest, Orwell, Outlast, Outlast 2, Postal 2, Presentable Liberty, Rainbow Six: Vegas, Red Faction II, Resident Evil 2 (2019), Return to Castle Wolfenstein, Rime, Risk of Rain, Run 2, Sayo no Uta, Sepia Tears, Sexy Brutale, Silent Hill 2, Singularity, Slime Rancher, Snipperclips, Sonic 2, Sonic Generations, Soul Knight, Spelunky, Star Fox 64, Star Wars: Empire at War, Star Wars: Republic Commando, Stories Untold, Stories: The Path of Destinies, Streets of Rage, Suikoden 2, Sunset Riders, Super Mario Bros., Super Mario Bros. 3, Super Mario Land, Super Mario World, New Super Mario Bros. 2, New Super Mario Bros. U, Super Metroid, Take That, Terraria, The Adventures of Batman & Robin (1994), The Company of Myself, The Escapists, The Silent Age, The Swapper, The Turing Test, The Walking Dead (2012), This War of Mine, TMNT: Turtles in Time (1994), Trauma, Ultimate Spider-Man (2005), Unraveled, VA-11 HALL-A, VVVVVV, Warhammer 40k: Space Marine, You Have 10 Seconds, You Have 10 Seconds 2, Yu-Gi-Oh Forbidden Memories (1999)
Conclusion & Complete Results Link
This was a lot of fun, I look forward to doing something like it again. Thanks to everyone who participated and contributed such thoughtful replies. I got a ton of kind private messages, too.
All of the results were tallied into a Google Doc which is publicly accessible here:
Notes
Additionally, I had to institute a few rules for this list which are:
In cases where more than one game was mentioned, I included the first mention in the results and ignored the others
Games which you can't really "complete" in 8 hours were not included. This is a bit of a subjective judgement, but my purpose for adding this restriction is so others can find highly recommended games which will not consume a lot of their time.
Games which take most people well over 8 hours were not included, even though these games can be speed run by skilled players in under 8 hours. Examples (which received votes) are Shadow of Mordor, Dark Souls, and Final Fantasy Tactics.