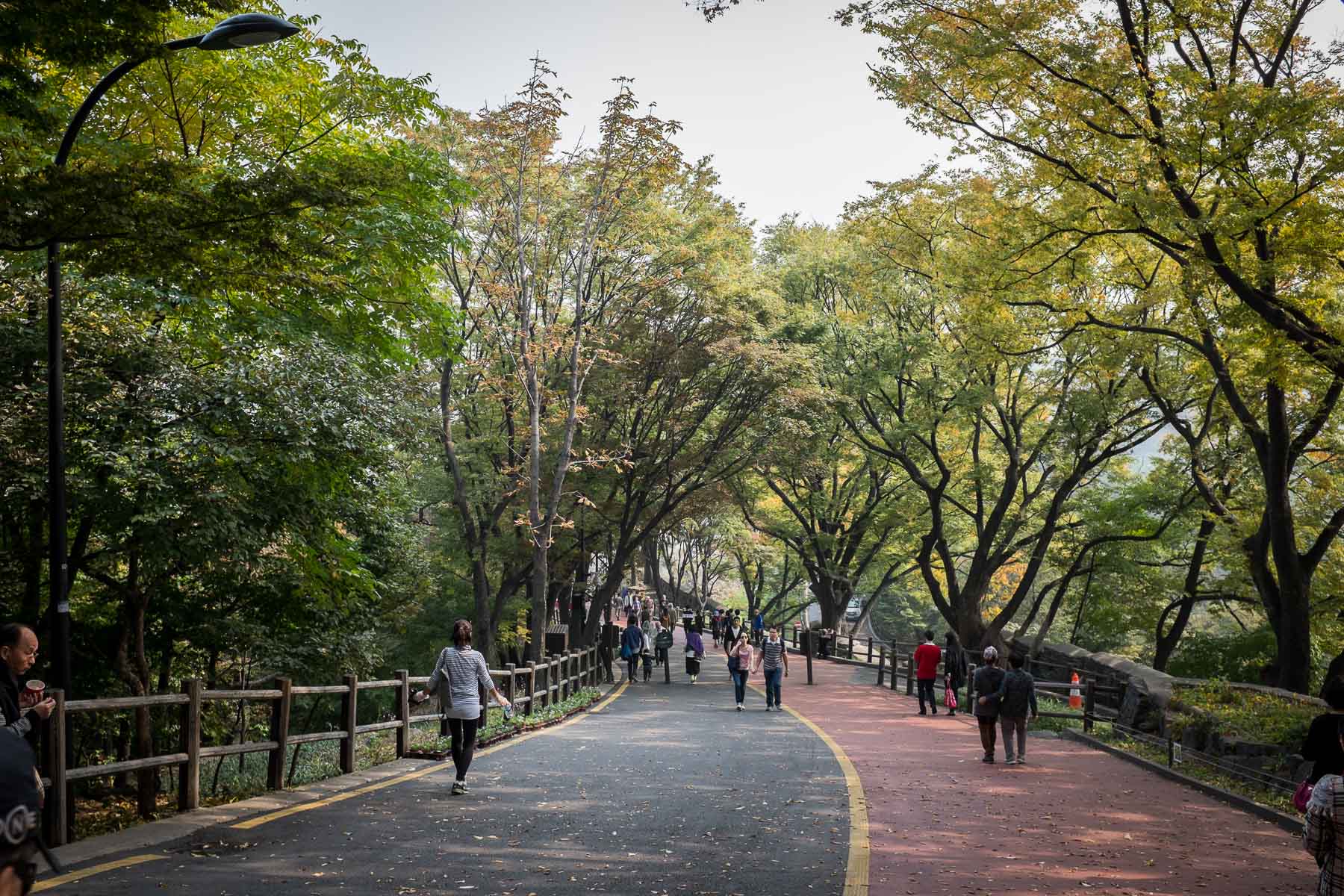 Pedestrian walkway shortly after dawn. This path leads to the Seoul Tower on Mount Namsan, which is a popular destination just outside of the city, set among a lush and hilly forest. I didn't see nearly as many tourists as I thought I would.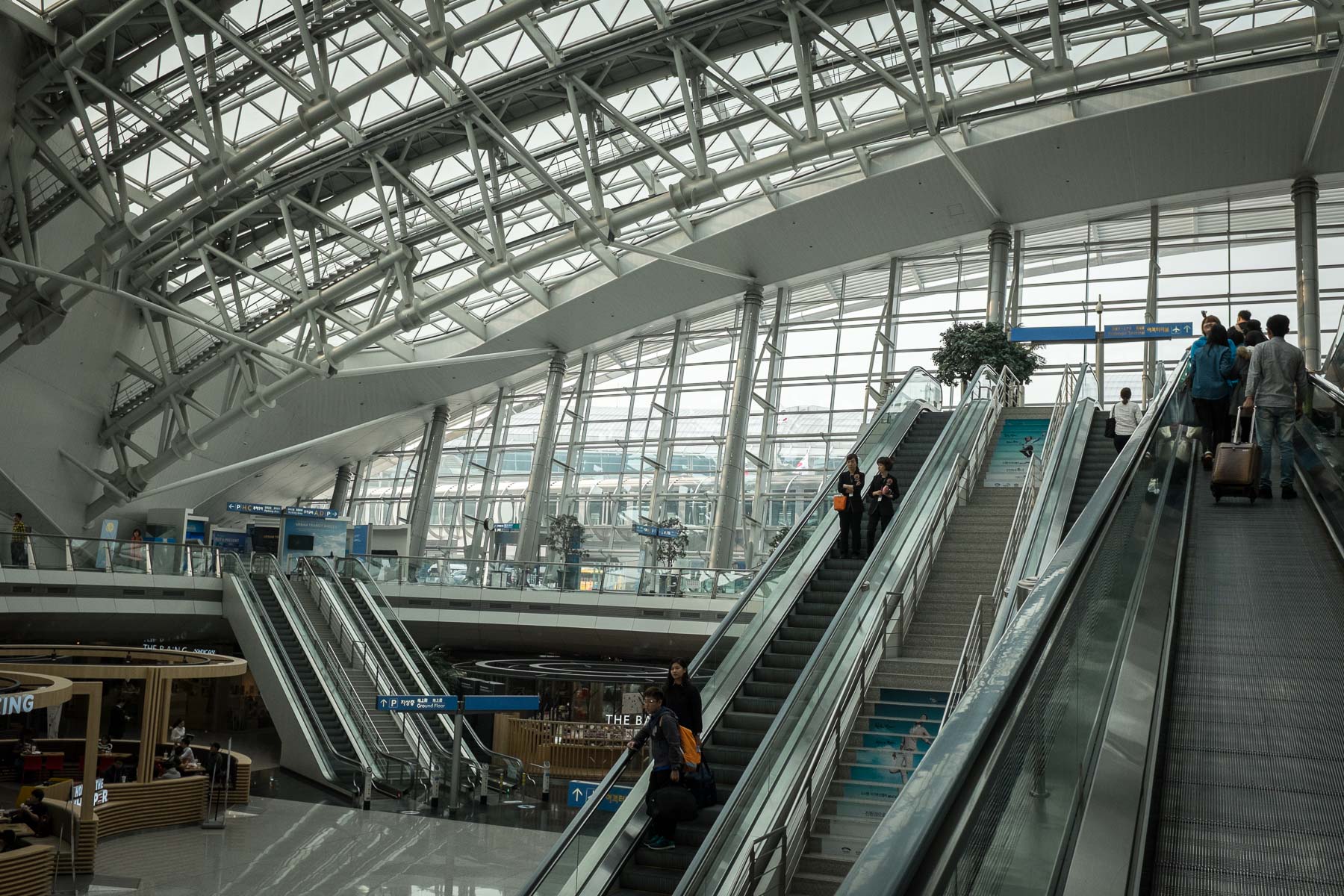 Leaving Incheon, one of the most amazing airports that I have seen. While burning time inside the airport I learned why it is ranked among the best airports in the world: free internet, free computers, free beds to take naps in, and free showers. There are also performances and Korean cultural exhibits spread throughout the enormous facility which transports over 40 million people per year.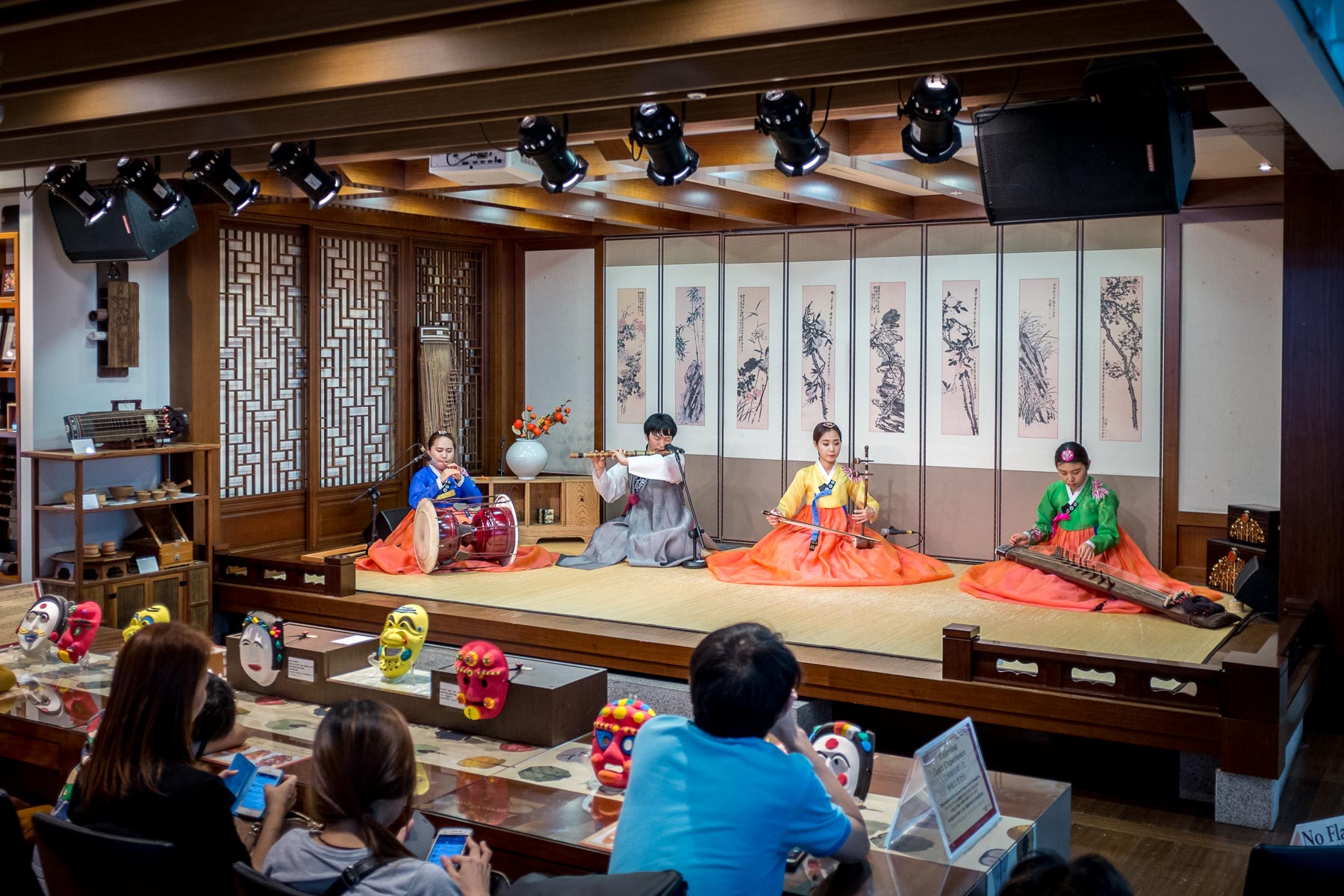 One of several Korean cultural exhibitions staged inside of Incheon International Airport.
This design language on this insignia struck me as novel – it's like a Daoist interpretation of German's imperial eagle (the Reichsadler).
Jangchungdan Park. This is where a shrine and tablet stands that honors those who died trying to protect Empress Myeongseongfrom in a 19th century Japanese attack on Korea.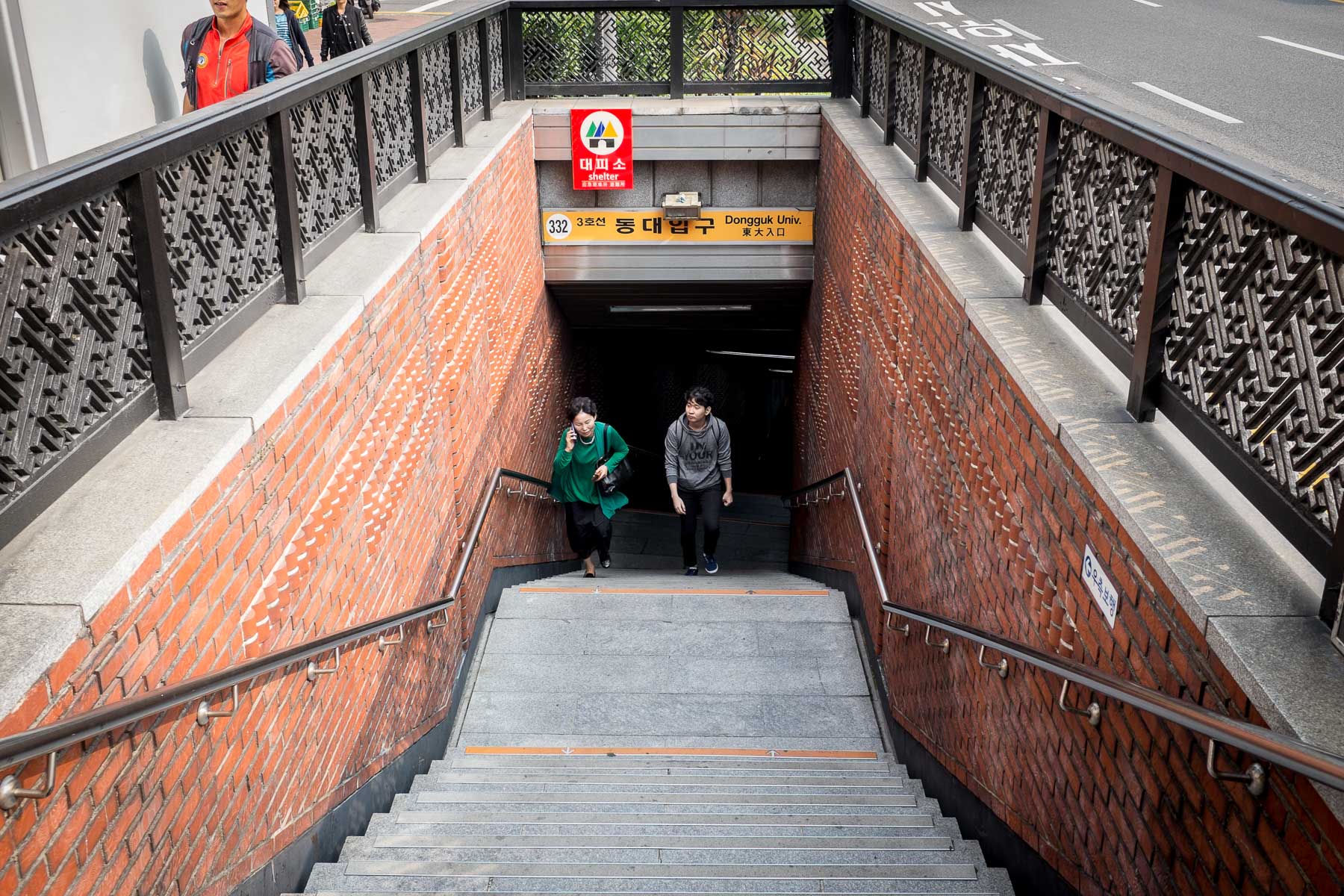 Looking down into the Dongguk University station on the Seoul subway line 3.
Taken from atop the Seoul Tower on Mount Namsan. A blue haze blankets the city.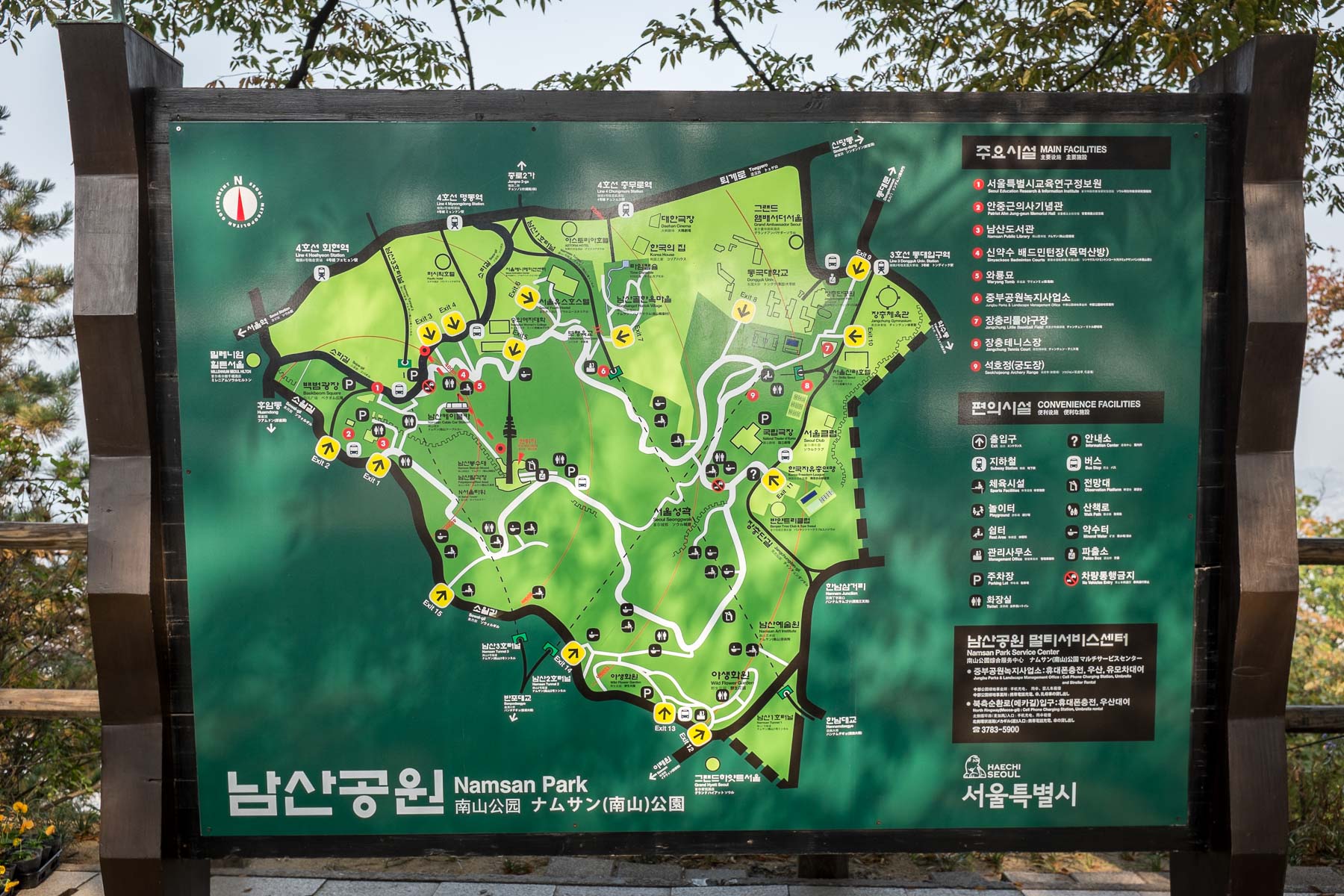 Map of the park grounds surrounding the Seoul Tower. The area is actually very large – it was about a 40 minute walk from where the taxi dropped me off to the top of the mountain where the tower is. Surprisingly long considering its close proximity to Seoul, one of the most crowded cities in the world.
Safety instructions and warnings on the subway train.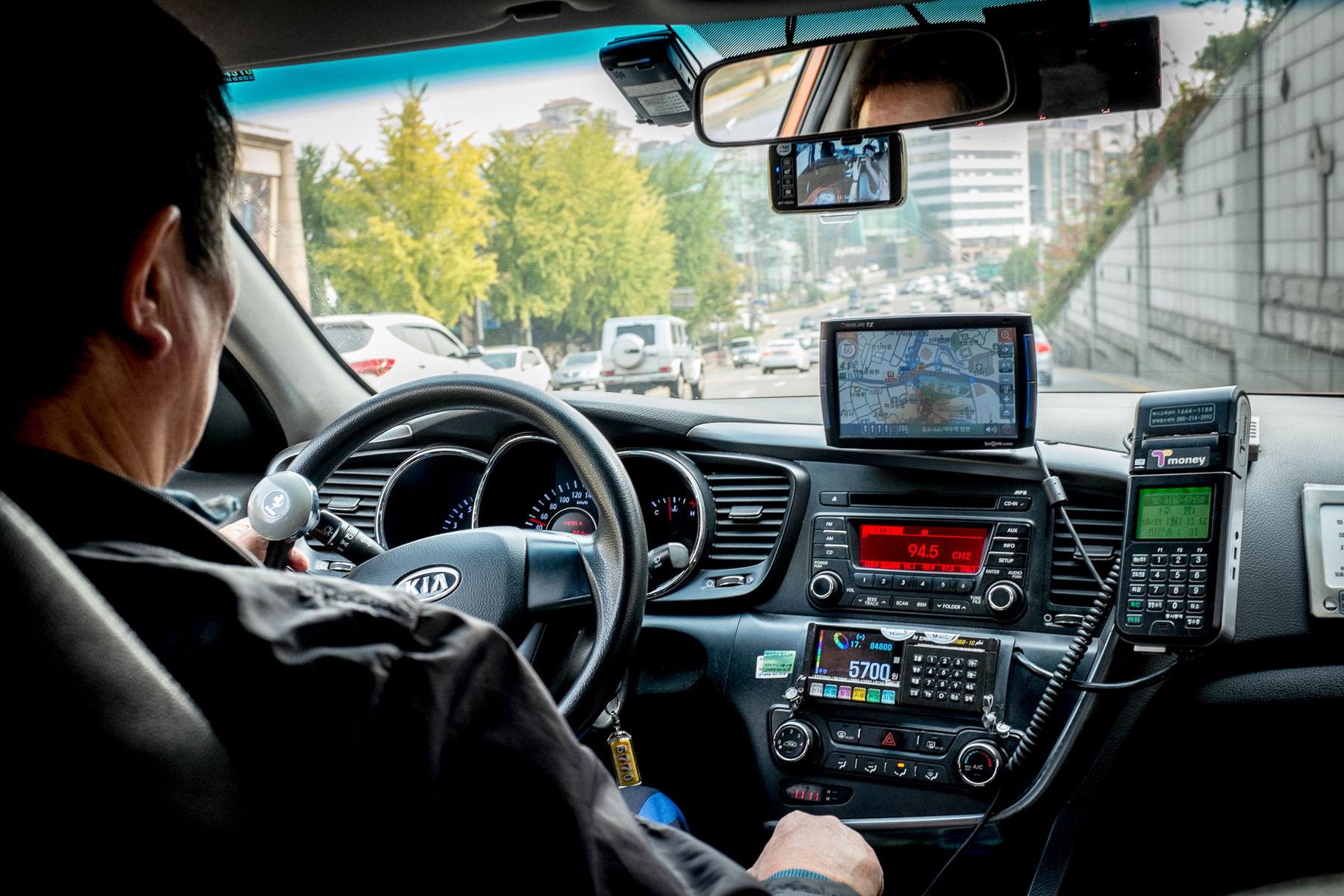 Inside a taxi. The combination of technology in use here was interesting to me: radio, credit card processing, GPS, radar detector, and more. The driver spoke absolutely no English.
Walking down Mount Namsan toward Seoul. It is a 40+ minute walk to the nearest public road with cars on it.
Sculpture of compressed humans along the stone wall outside of Deokstgung's palace.
Another angle of the same sculpture.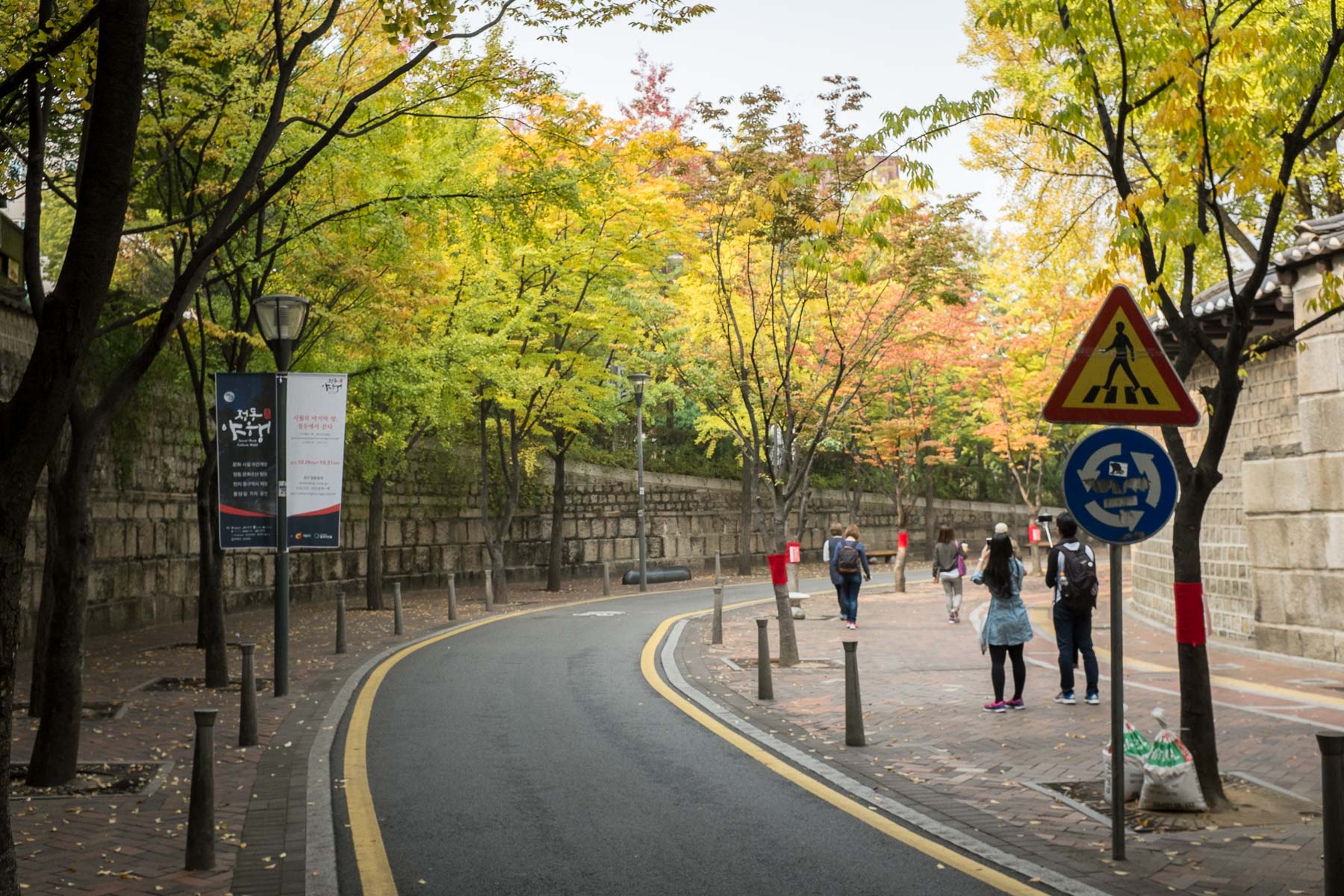 Walking along the Deoksugung palace wall.
Pedestrian crossing outside of Seoul Square, where City Hall is located.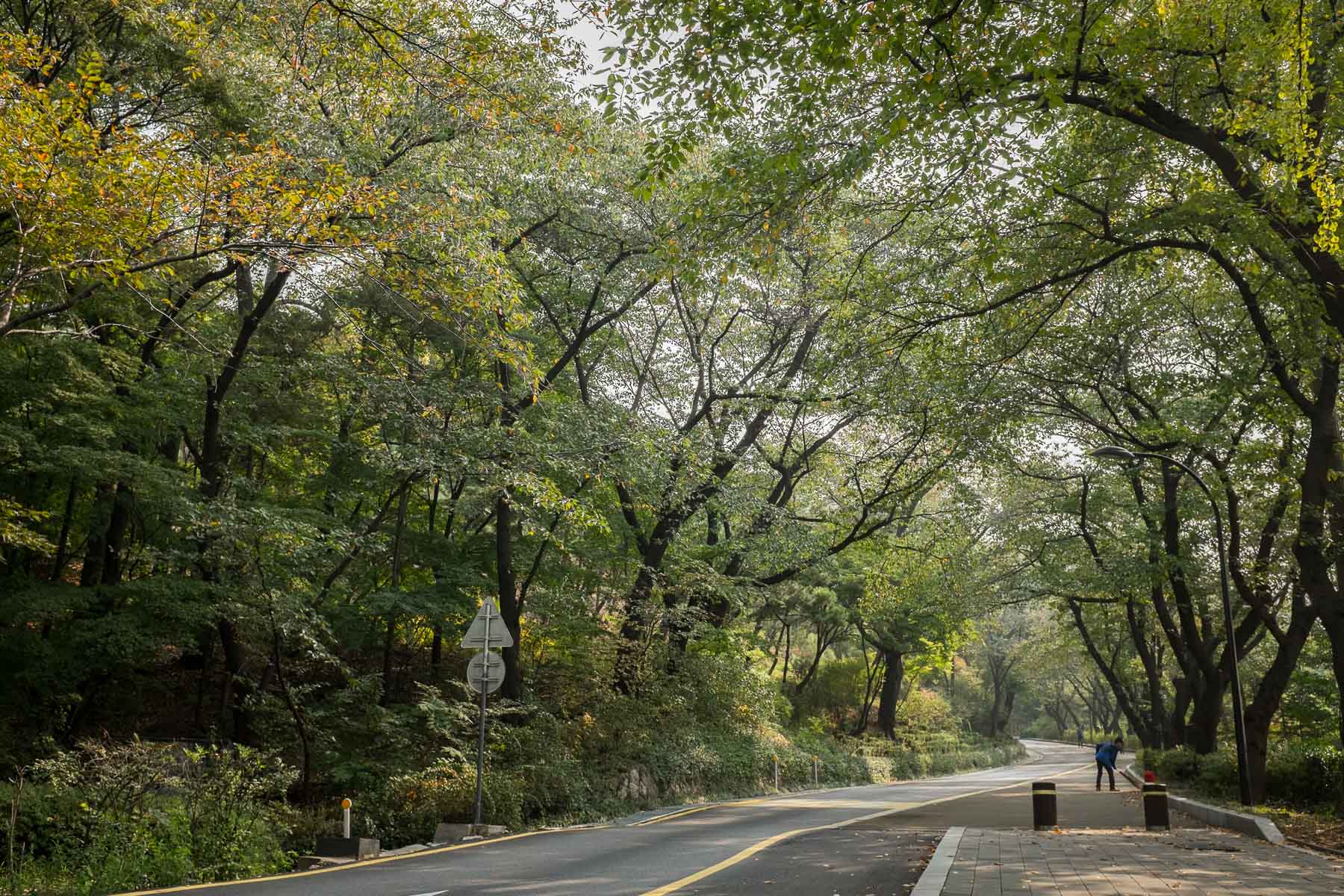 Walking along a desolate road outside of the city, near Mount Namsan.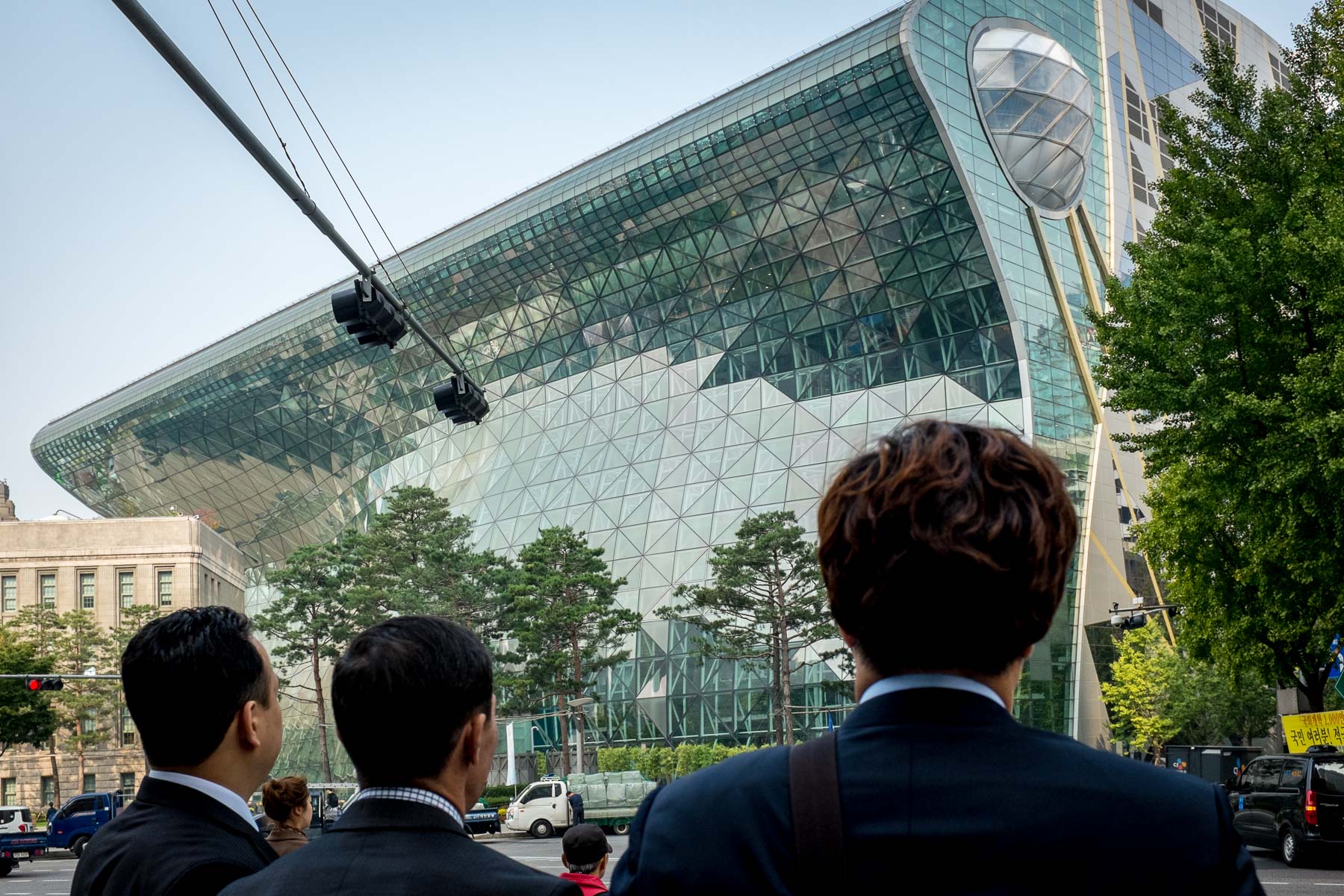 Outside of Seoul City Hall, a beautiful structure which was designed by iArc, a Korean architecture firm based in Seoul. The building was constructed in 2013 and is relatively new.
This man was quietly seated here and appeared to be praying or meditating.
Deokstgung's Palace in downtown Seoul. The stone wall that you can see on the sides extend for a great distance through the streets behind the palace.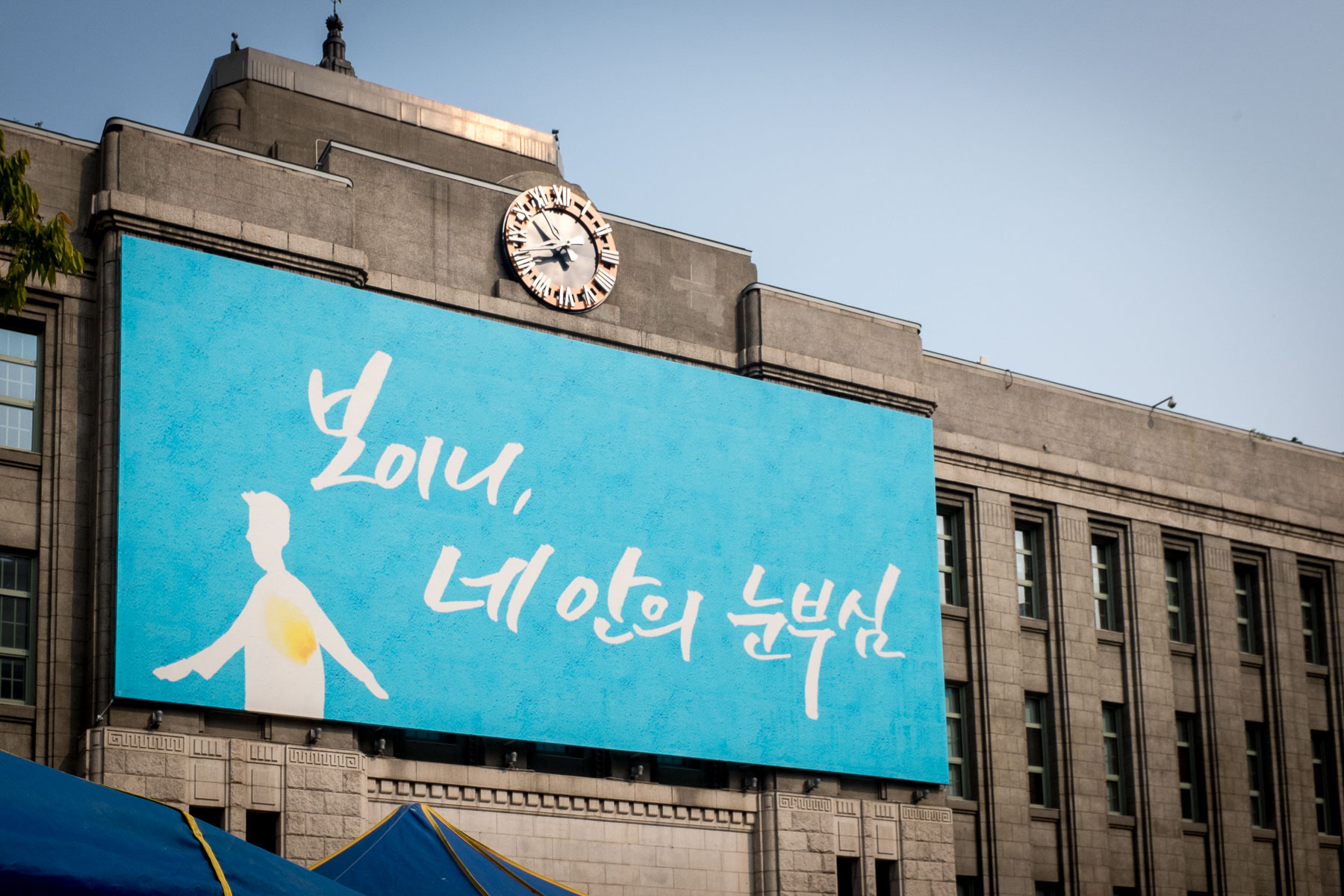 Billboard in Seoul Square.
Inside the Seoul City Hall, which features dramatic vertical gardens along with large balloon installations which you can see here.
One of many vertical gardens inside City Hall, being maintenance by workers on cranes inside the massive facility.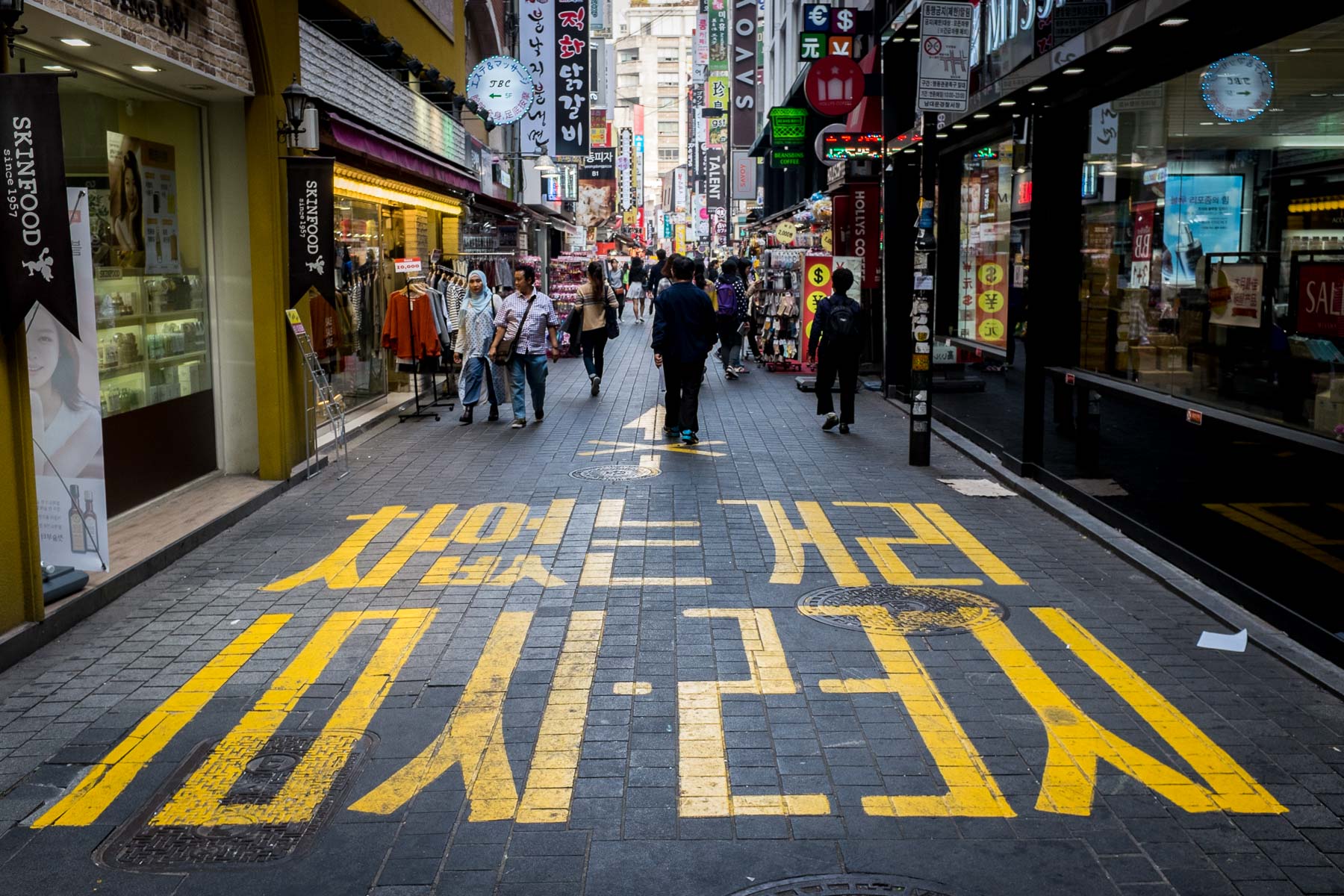 Walking down a pedestrian shopping street. I took this photo just after having stepped out of an MLB (Major League Baseball) official outlet which had more baseball gear than I have ever seen in Asia. The combination of an overwhelming amount of baseball paraphernalia and unintelligible Korean hangul was memorable.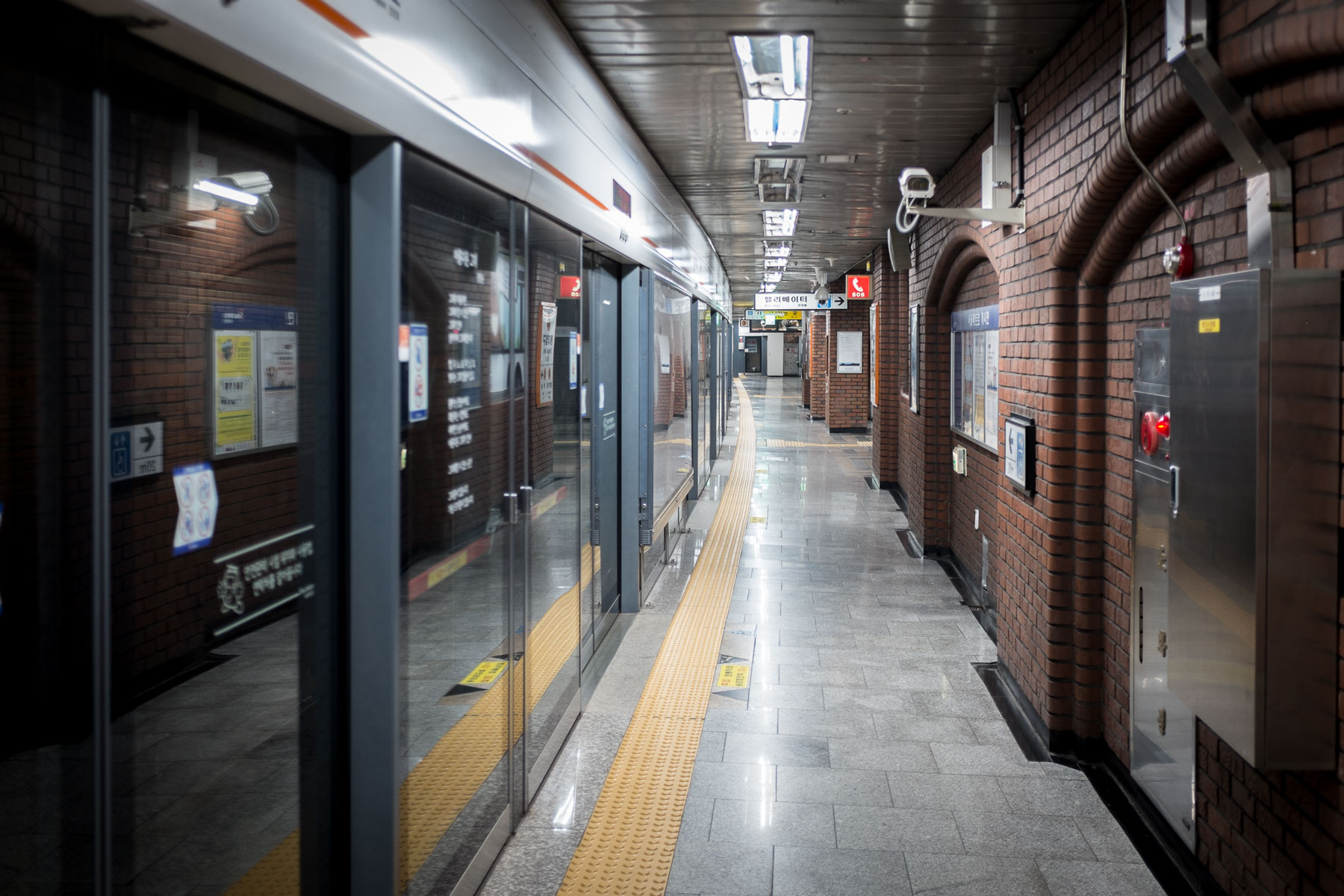 Corridor on the subway.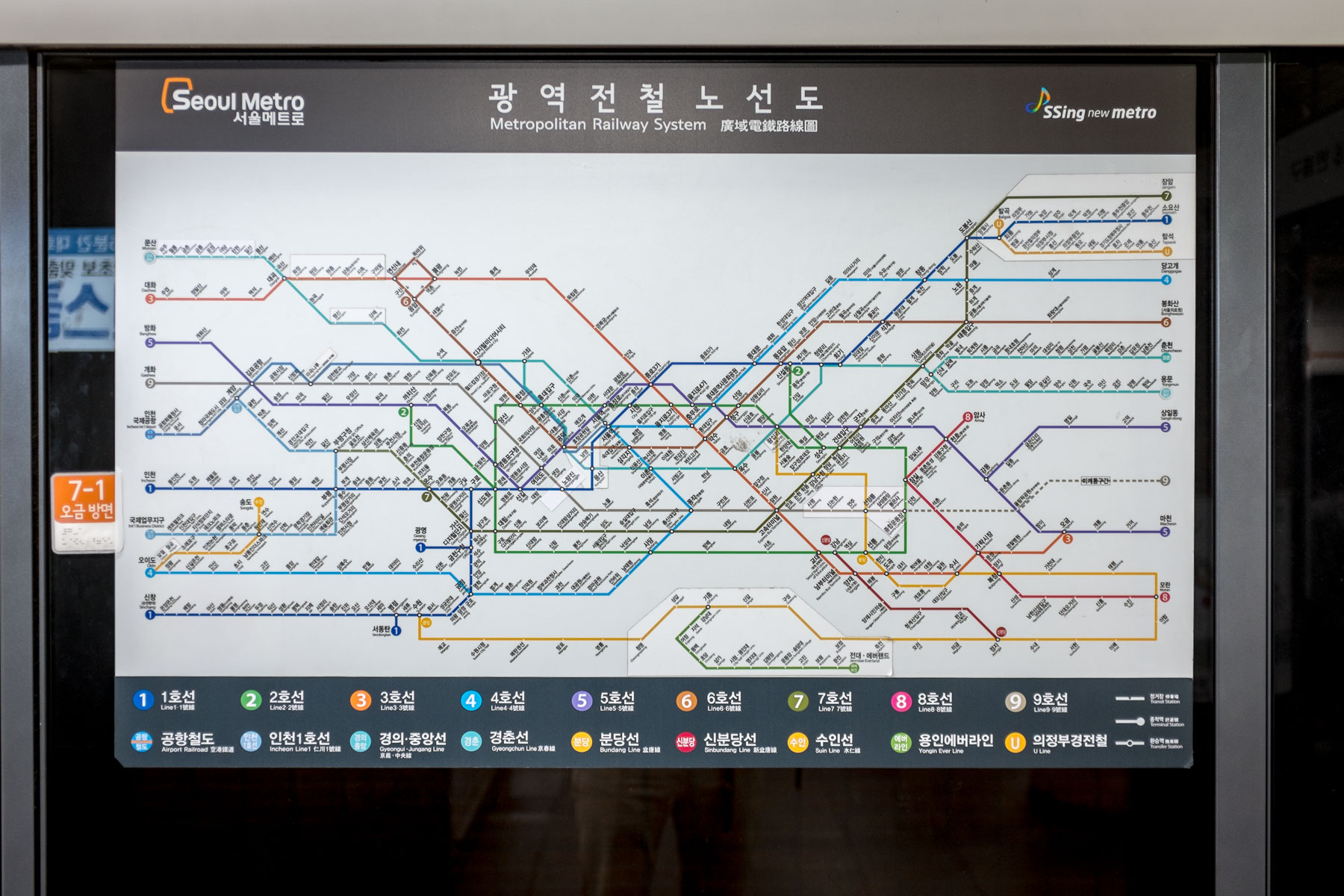 Seoul subway map.
Mount Namsan.