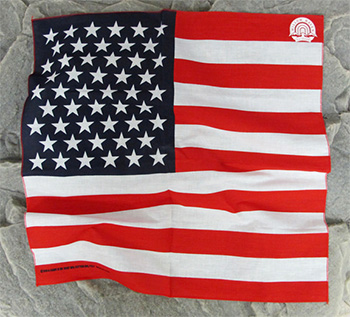 The Olympic DJ event at Xiong Mao last Saturday was a success – the most fun that any of us had had at Xiong Mao in months. 8 DJ's, hailing from 8 countries, came and played music in one club, making this probably among the most "international" events that I've seen in Chengdu. Although not everyone came prepared to rep for their country, I certainly did. Here's how it went down.
I prepared a patriotic DJ set and wore an American flag headband for the occasion. The tracklist is below. I had a blast performing, even shadow boxing while wearing an American flag in the DJ booth while "Eye of the Tiger" played. Then I ran through James Brown, Metallica, Guns n' Roses, and other untouchable American classics. Dubious "hits" like the Hulk Hogan theme song and Europe's "Final Countdown" were present as well in case anyone was taking it too seriously.
To my elation, when I finished my set a dozen or so kind strangers approached me and said they enjoyed my set, which is more than usual in Chengdu. A few of them added things like: "and I don't even really like America". By no coincidence, these people were all Europeans. Haters gonna hate! Regardless, I basked in the patriotic glory, and the United States winning in both categories of most medals and most gold medals at the 2012 London Olympics was a nice bonus.
The Sore Knuckles Part
At about 3am I was sitting outside with Justin, Rachel, Kafe, and Lana and sitting amidst our group was a bitter English man of African descent. He was at the club outside, alone, and insisted on being a jack ass by doing things like asking me where I'm from, me responding Washington DC, and him saying "Which Washington DC?". He simply wanted to be "that guy".
We clowned on him for about 10 minutes as he continued to make himself look worse and worse. However as he was being pushed further and further into a corner of social isolation, he became more and more nasty, eventually calling Rachel a bitch for no reason. When I asked him to repeat that, he did, and Justin and I both got out of our seats. I lept forward and pushed him and he swung at me and missed. I hit him a few times, as did Justin, but he landed a single punch on Justin, cutting his eye and necessitating in a trip to the hospital which resulted in three stitches.
After I saw the blood erupt from Justin's face I became enraged. I was held back by Jiao Jiao as I quietly tried to convince her to let me go, whispering in her ear. Kafe held back the black guy and I went to fetch Andy, who brought a group of people outside the club to hold him down. He thanked Justin and I for our restraint and we left. From what I'm told the man was lucky to walk out of there, with "6 people ready to kick his head in" according to the guy holding him down as we exited the venue.
Although the night ended with the dubious distinction of being the first fight that I've participated in at Xiong Mao, I still had a blast that night. I won't forget it soon. In the meantime, my hand hurts.
DJ Set Tracklist
Here are the songs I played that night and the order that I played them:
Just Charlie – President Obama Introduction
Dead Prez – Hip Hop
RL Grime – Art Money
Deadmau5 – The Veldt (Drankenstein Remix)
Lil Wayne – A Milli
Kanye West – Power
Just Charlie – Let's Get Ready to Rumble Interlude
Guerrilla Black – Compton
Gudda Gudda – I Don't Like the Look (Feat. Lil Wayne)
Ludacris – Move Bitch / Move the Fuck Back (Just Charlie Blend)
Jay Z – A Million (Freestyle with MC Kafe Hu)
Wu Tang Clan – Triumph
Drum Break + "USA" Chant
Baauer – Harlem Shake
Survivor – Eye of the Tiger
Michael Jackson – Bad
Europe – The Final Countdown
Guns 'n Roses – Welcome to the Jungle
Just Charlie – Michael Phelps Interlude
Santigold – Creator
James Brown – Papa's Got a Brand New Bag
Metallica – Enter Sandman
Drum Break Interlude
Nirvana – Come As You Are
Queen – We Are the Champions
Rick Derringer – Real American (Hulk Hogan Theme Song)
Team America – America, Fuck Yeah
Riff Raff – Jose Canseco