A few months ago a Dutch friend of mine who's the co-proprietor of one of Chengdu's longest running bars (called Machu Picchu) approached me with an offer. He had a large house on the outskirts of Chengdu that he had tried to run a bar at, but couldn't make it happen for personal reasons.
Having many of my own projects to attend to, my approach was to assemble a cast of collaborators to cultivate a venue to host events throughout the summer. After weeks of trying to pull together all the pieces, it looked like it was going to fall apart.  But at the last moment, it came together and we signed a contract on the house.
Now that house is called Dojo, and last weekend we hosted our second event there, which we have been calling Mega House Party. In a nutshell, it emulates the American house party experience in Western China, usually with stunning accuracy.
Some Dojo Highlights
There are three areas of music, and 8+ DJs who perform at each event. Chengdu's best, of course.

A VJ on a projector casts a large image upon a white sheet on one side of the house
Barbecue and live graffiti outside
A monster sound system in the main room, with two 15″ subwoofers
Chinese, Laotian, and locally-brewed beer
Fire poi is a regular fixture
We prepare and sell food, include homemade pizza and deep fried Oreos
So far each event has drawn 300+ people
The May Party Flyer
I've been designing and printing event flyers for years, mostly for Disco Death events. When everyone was making A4 size posters, I begun making one meter-tall feature film size posters, which were 300dpi Photoshop files that were multiple gigabytes in size. In 2013, big posters are pretty common in Chengdu. So once again, I'm taking the next step and doing something new, that's never been done before in Chengdu: digital-only, animated flyers. This will be the first of many.
It will be interesting to see how many people will be doing this by summertime 2014 – I expect it will be a lot. However, since there are few flyer designers in Chengdu, the technical hurdles of creating this kind of flyer are a bit higher. This month's flyer is around 70 frames, which demands a new workflow that I haven't yet mastered.
At the May Event
At this event, we cooperated with the Natooke fixed gear bicycle shop in Chengdu to host the after party for their Kill the Hill event on Longquan Mountain. In layman terms, Natooke hosted a fixed gear and single speed bicycle race up a mountain (meaning no mountain bikes allowed) and held the award ceremony at the house.
Around 6pm a mass of 60+ rainbow-colored fixed gear bicyclists swarmed to Dojo like bees to the hive. Everyone had a blast. The next event is in two weeks on Saturday, June 15th.
Photos from the Night
Fortunately I had my camera with me at this months event and had the opportunity to capture a lot of photos. As it got later into the night and I started playing music and drinking more, I stopped messing with my camera. With any luck, next time I'll get photos that span the entire night instead of the first few hours. Still, I look at these photos with great satisfaction. The two Dojo events that we've hosted so far have been the best parties that I've seen in Chengdu in my seven years here. I'm proud to be a part of it and share American house party culture with an international audience.
Here are a handful of photos, with more at the link below: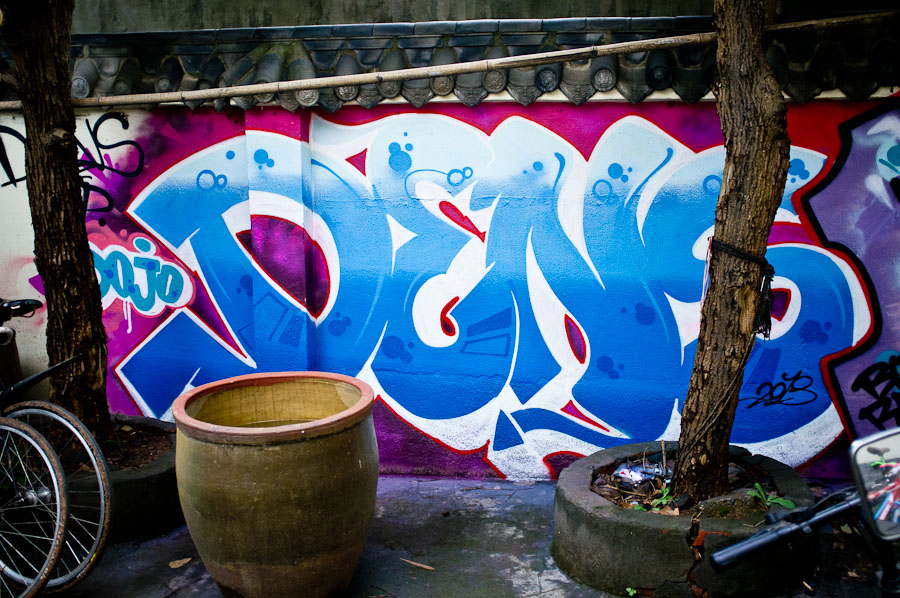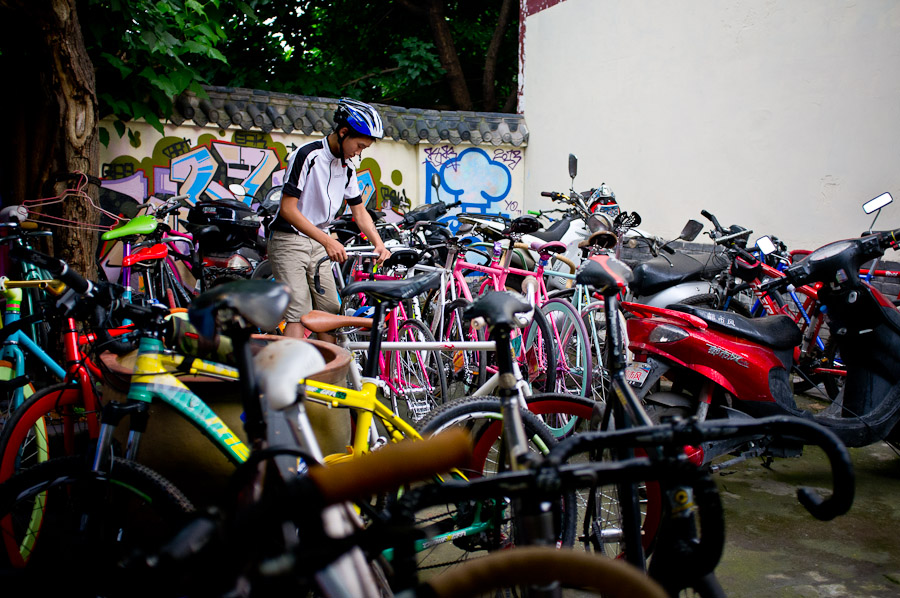 More photos here: Dojo May Photos
Bonus: Fire Poi Youtube Clip
I captured a brief clip of one of the fire poi performers and uploaded it to Youtube: