Firewatch is a first person adventure game where you play a fire lookout during the Yellowstone fires of 1988. This fire lookout, Henry, has recently passed through a difficult period wherein his wife has been diagnosed with dementia and sent to live with her family in Australia. Seeking solitude, Henry becomes a park ranger in California, living in total isolation for the duration of the summer.
Henry leaves one bad situation only to step into another, as the wildfire in 1988 was Yellowstone's largest in recorded history. The only human contact that Henry has is with Delilah, his female supervisor, and all contact is via a handheld radio.
Firewatch is the first game released by San Francisco-based developer Campo Santo, which was founded by a small group of indie game veterans:
Game designers Jake Rodkin and Sean Vanaman, lead writers of Telltale's award-winning The Walking Dead adventure game series
Artist Olly Moss, creator of much-loved minimalist posters
Firewatch Trailer
Dialogue, Isolation and Mystery
As a lookout your job is to identify and report signs of fire from your atop your outpost. When you see smoke emerging from far away, you hike to find the source and discover much more. At it's heart this is a mystery game where you explore the landscape and discover clues to uncover the truth wrongdoing in the park.
Character development is one of the major themes in Firewatch, and all of it happens through a walkie talkie with Delilah, your boss. From the very beginning you're given choices to determine who you are, which quickly create a sense of empathy with the protagonist.
There's not that much to this game in terms of innovative gameplay mechanics. It's very similar to Gone Home (one of my favorite games from the last few years): a first person adventure without a single weapon. It is an emotional and paranoid journey through the stressful hardship of someone found in a difficult position. It is the opposite of the video game stereotype of shooting aliens on a spaceship or rallying units to encircle a medieval castle: it feels authentic and strikes a deep emotional chord.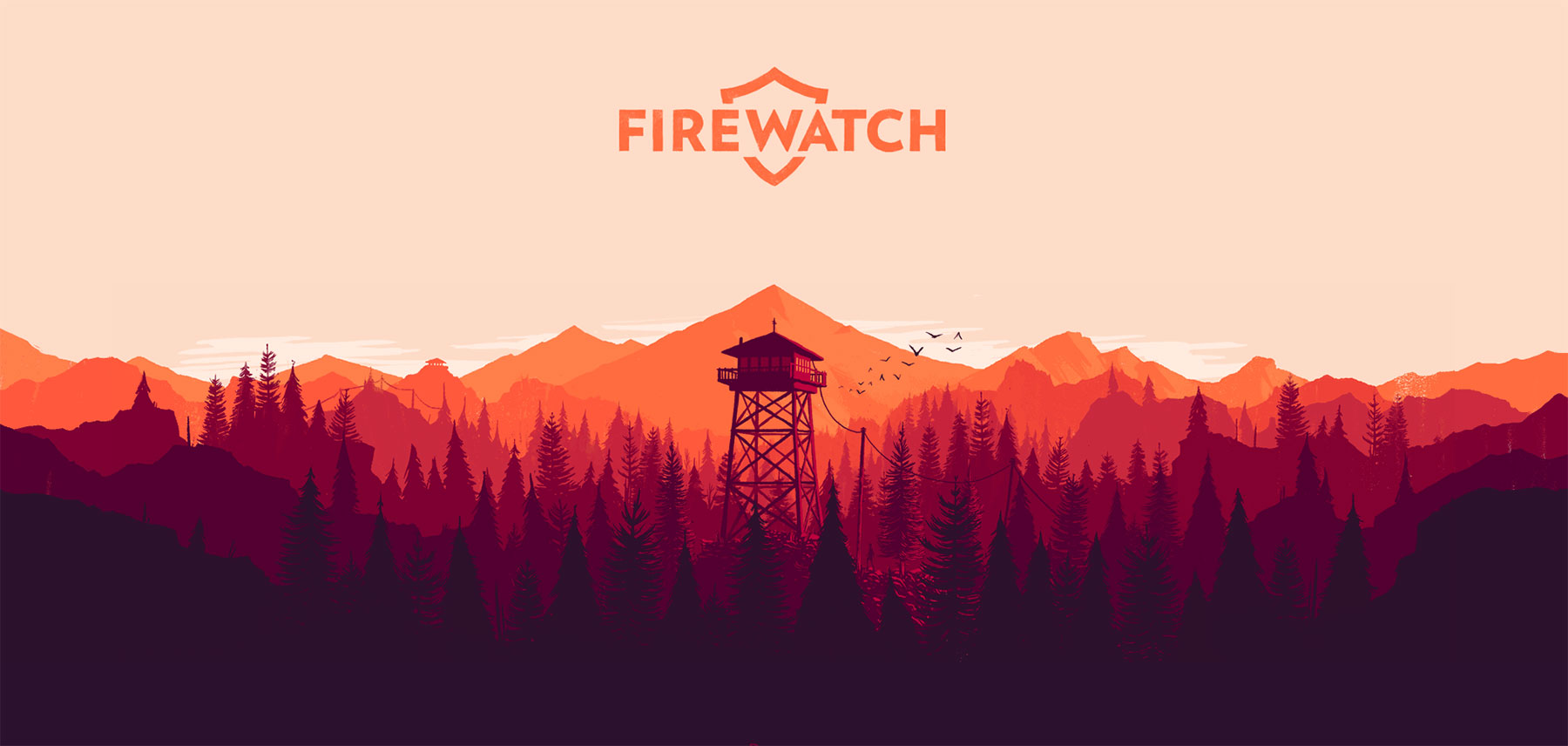 Design & Aesthetic
This game is strikingly well designed, aesthetically. The lead artist on the game is Olly Moss, who became famous on the internet a few years ago when minimalist film posters he designed went viral. He created posters just for Firewatch, a few of which are below. More are available on the official Firewatch website.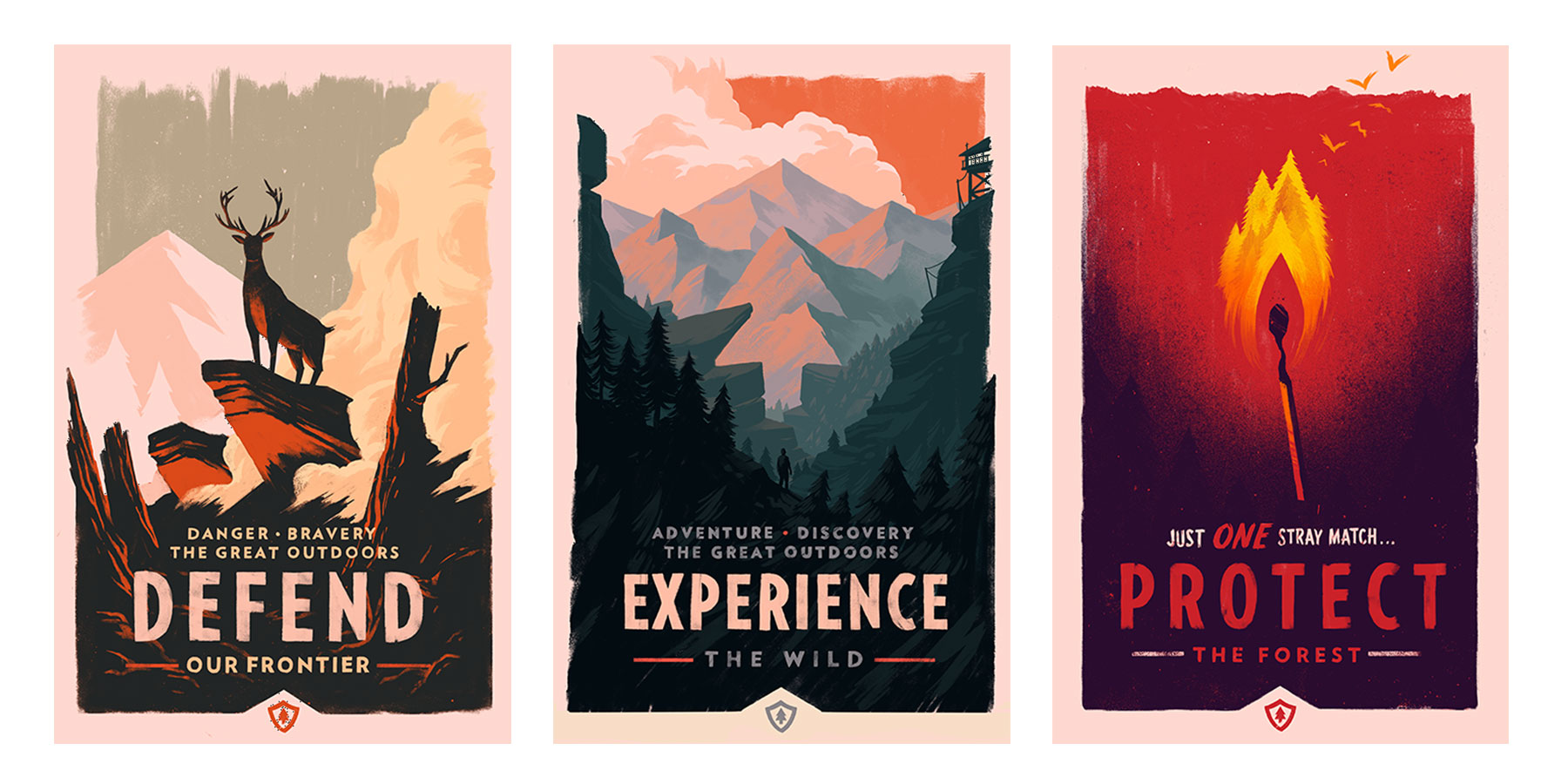 The contrast between isolation and beautiful surroundings becomes startling as the game progresses. You become lonely and paranoid while running through postcard-looking scenes of natural beauty. Spending hours in this environment led me to reflect on my own surroundings: a densely populated urban metropolis with only glances of natural beauty.
For a game this short – it will take about four hours to complete – the scenery is mesmerizing. Toward the beginning of the game you scavenge an instant camera which you can use in game to photograph scenes that you pass. The way these photos are used in the game is clever.
Conclusion
I will remember the way that Firewatch made me feel for a long time. It is an emotionally compelling story about vulnerability, surveillance and fear, set in Yellowstone. Although it's set in 1988, its recurring themes of surveillance and paranoia feel very relevant in 2016, with the on-going debate and discussion around encryption and digital communications.
It took about four hours to complete this game, which is great. The conclusion of the game became slightly convoluted, but otherwise playing Firewatch felt like a good novel: you won't be able to wait to see what happens next. It is highly engaging, deeply moving and visually stunning.
Rating:

Firewatch, available on PC, Mac and PS4