In late October 2015, I flew from Seoul to Seattle to speak at the Mobile Games Forum Seattle event. I had some time to explore the city of Seattle, which was my second time there, and came back with these photos. Many of the places visited in Seattle are described in greater detail in a blog post about places I visited in the city:
[button link="http://www.justcharlie.com/places-in-seattle" size="medium" bg_color="#0091ff"]Places to Visit in Seattle[/button]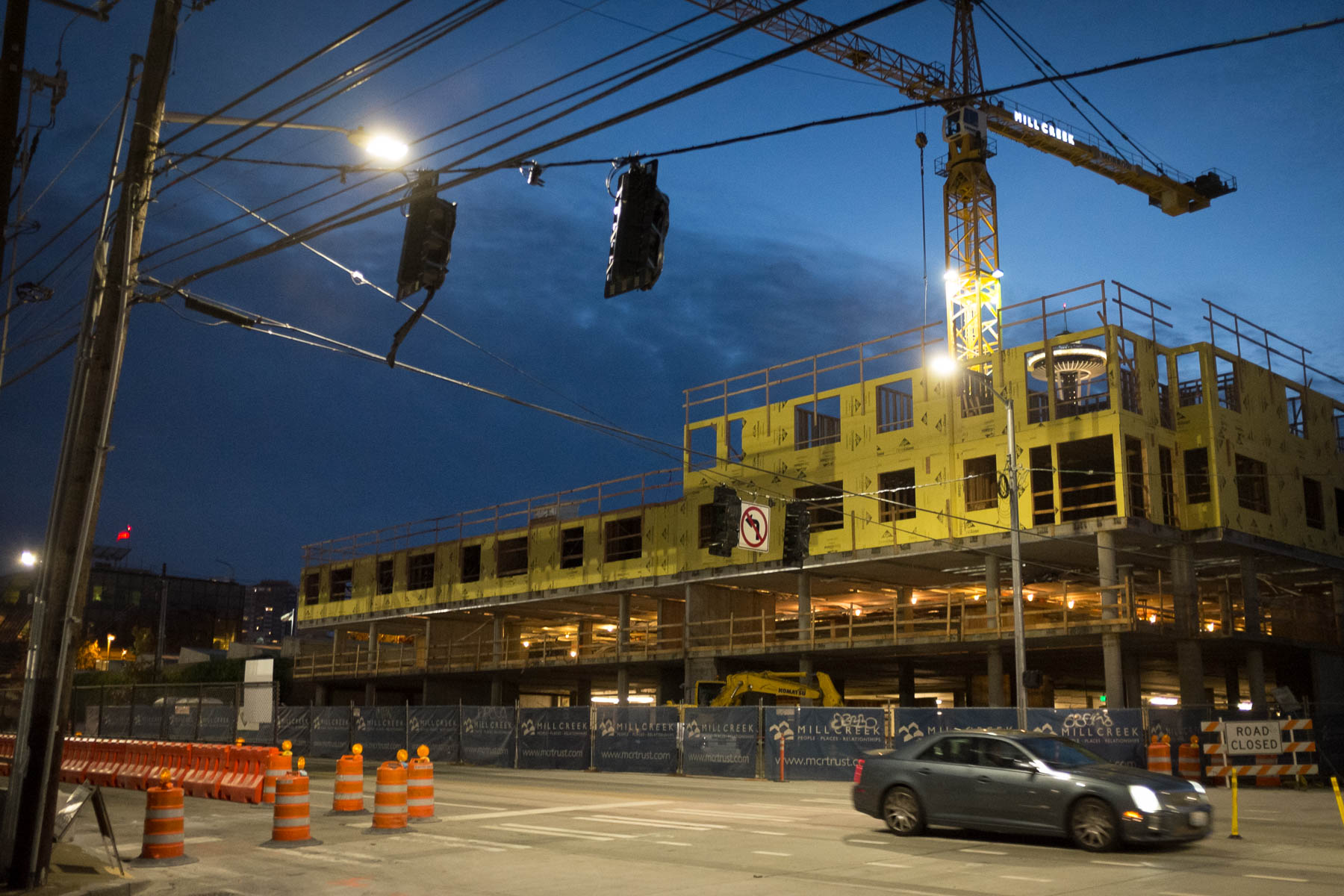 While searching for a camera shop in the evening the sun set as I was near this construction site. It reminded me of Chengdu, a city constantly under construction. Cranes have become a familiar sight.
Seattle is famous for coffee shops, and this (and Solstice) were my two favorites. This is only a few blocks away from the Starbucks Reserve Roastery on Pike Street.
I made a point to look for social gaming spaces in the city of Seattle to see what I could uncover. I found this, Gamma Ray, a store mostly devoted to board games with a few classic stand-up arcade machines. I played Marble Madness here with a few quarters, my first time playing the arcade iteration of the game in twenty years.
The Hammering Man sculpture outside of the Seattle Art Museum. This is one of many of these monumental kinetic sculptures designed by Jonathan Borofsky. Another one which I've seen recently is the Molecule Man sculpture in the Spree river in Berlin.
Inside the Big Picture independent cinema in Belltown, downtown Seattle. I saw The Martian here, just before Spectre was scheduled for release. Order drinks at the bar in Big Picture and they are delivered to you in the middle of the film.
One of the many alleys in downtown Seattle. This is a city of alleys.
The Seattle Great Wheel at Pier 57.
Seattle Olympic Park at dusk. This is a wonderful place to visit at this time of day, as you can see the sun set on the Pacific Ocean.
Inside the Seattle Museum of Art.
In the parking lot of Glazer's Camera.
Taken from atop the 73rd floor Sky View Observatory on 5th avenue. Much higher than the Space Needle. From here you have a beautiful view of Mount Rainier and the Cascade Range.
Inside the Seattle Museum of Art. This installation was made by Chinese artist Cai Guoqiang, who made what the New York Times called A Constellation of Tauruses.
Looking down Pine Street at the Public Market Center sign.
Looking East from the Olympic Sculpture Park at apartment building and the Space Needle.
What's roasting inside the Seattle Reserve Roastery on October 23rd, 2015.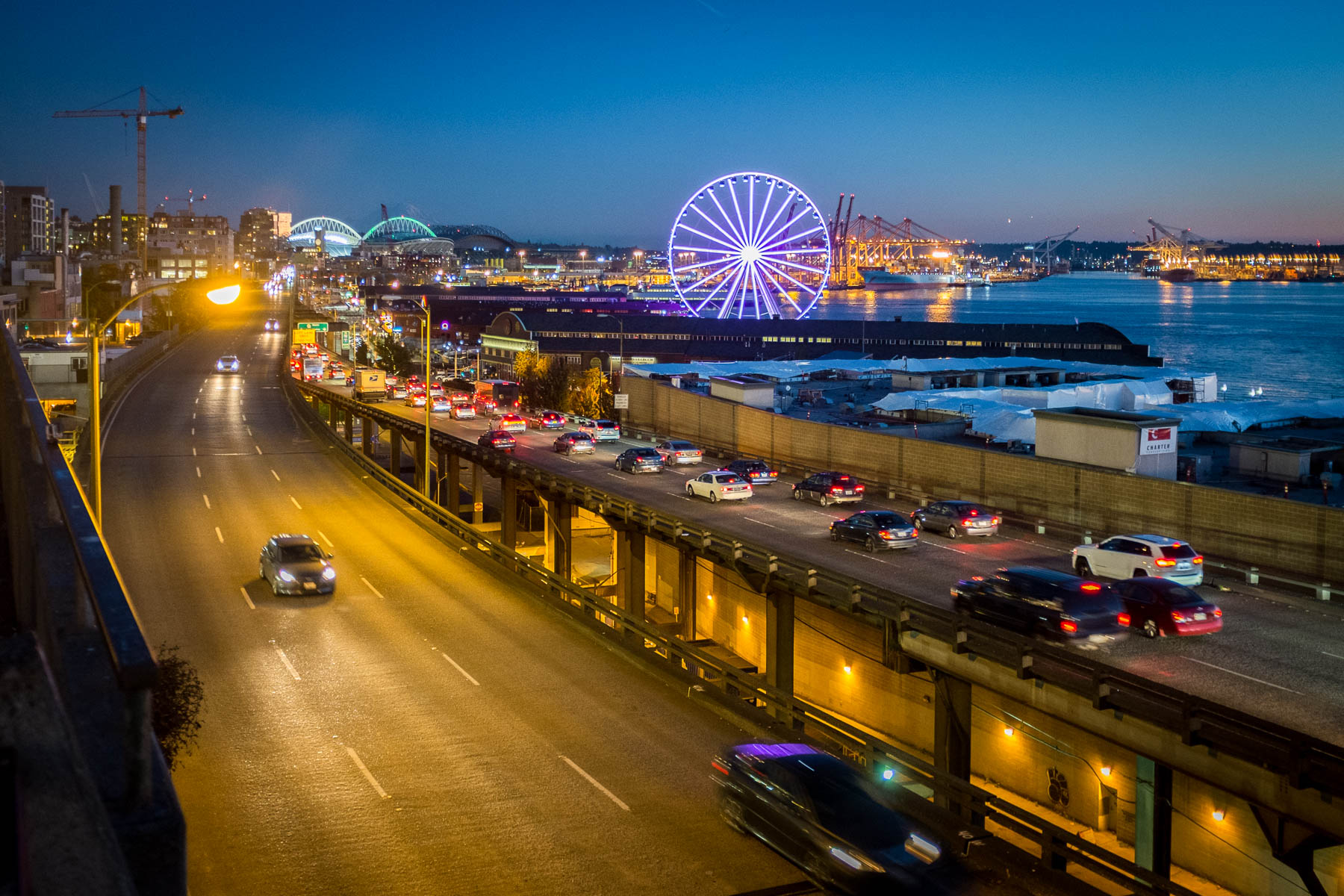 One of Seattle's most well-known landmarks: Pike Place Market.
Brooklyn-based band Brasstracks performing at The Crocodile. They were opening for Lido.
Inside Shorty's, a bar in Belltown which features a back room entirely filled with pinball machines. They frequently host pinball tournaments here.
Boats on the Seattle Waterfront. In the background on the right you can see shipping container cargo implements which look almost identical to those in Oakland which inspired the AT-AT's in Star Wars.
Near the Pike Place Market is an outdoor park where hundreds of people gather at dusk to see the sun set over the ocean. The atmosphere is wonderful.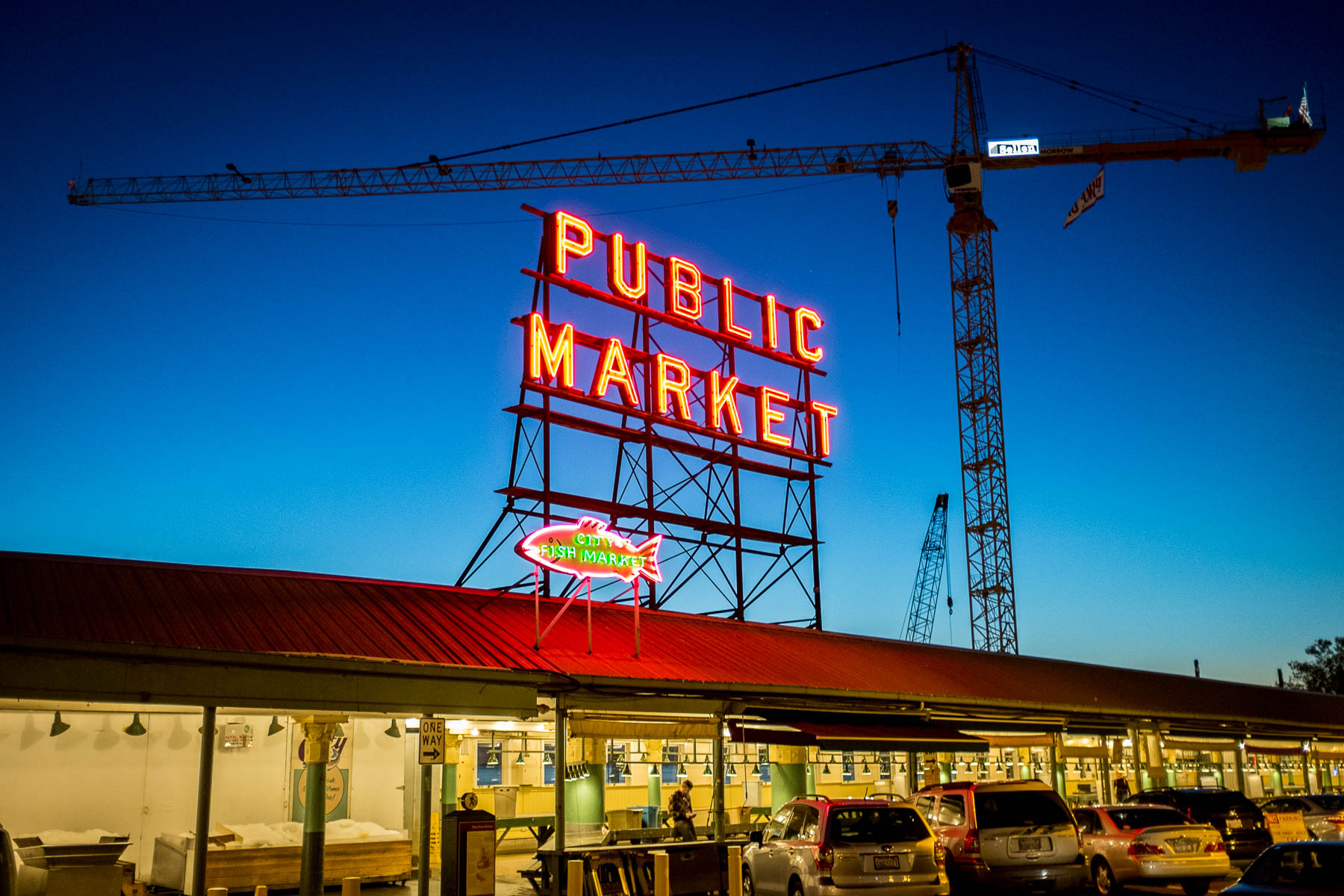 Fish market within Pike Place. Hundreds of vendors are arranged one after another in long avenue, selling every type of seafood imaginable. The market opens at dawn and is famous for fish being thrown away everywhere playfully.
Inside SAM.
Outside of the Sky View Observatory.