About These Mixes
I used to collect cassette tapes from Washington DC area DJ's in the late 1990's. People like DJ Geometrix and the Trooperz, Scott Henry, and Lexus King influenced me to start recording my own mixes after I had begun collecting records. I started writing just charlie on them and the name stuck. Some of the mixes I made between 1999 – 2008 are here for free download, as well as some more recent ones.
I used to distribute the mixes below on CD (originally burned and printed individually), now they live on the internet. Download them and listen to them at home or on the go in MP3 format. Most of these mixes are recorded at 192kbps and are about an hour in length. Tracklists and cover art below, too. I hope you have as much fun listening to them as I did assembling and recording them.
Mix Index
Martial Art: Atmospheric, Ethereal Drum & Bass
Art & Description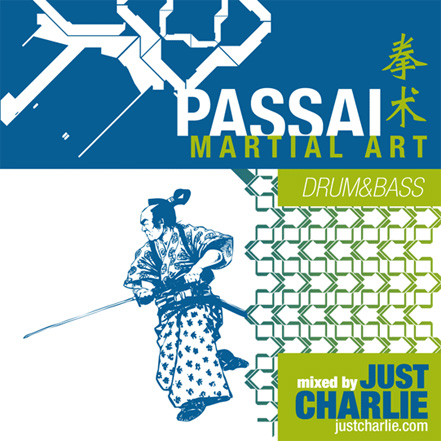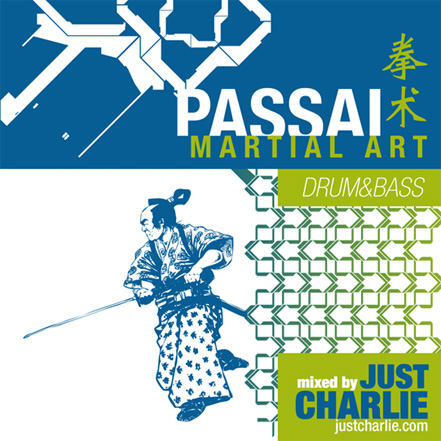 Who knew that my childhood friend would turn into a powerhouse atmospheric drum & bass producer? In total, there are only a handful of people around the globe who have access to these tracks, and they include LTJ Bukem and Fabio. Listen to the mix that broke the phenomenal underground atmospheric producer Passai, and led to LTJ Bukem cutting and playing his dubplates around the world.
Tracklist
Passai – Ascensio
Passai – Fall Time Jazz
Passai – Flight
Passai – Heavenly Bodies (Remix)
Passai – Crystal Clarity
Passai – Resurrection
Passai – Endless Light
Passai – Voices From the Other Side
Passai – Purple Horizon
Passai – Breezing On By
Passai – Revolver
Passai – Being Unknown
Passai – End of Days
Passai – Eternity
Download
8|8 Grand Imperial Mystic: Justice
Art & Description
This mix is part of a mixtape project from 2015 called 8|8 wherein 8 people created 8-song long mixtapes around pre-determined themes. Like the second mix, this one has a political theme, but it is mostly focused on a political figure of unity: Robert Kennedy. At the beginning and end of the mix are his speech immediately following Dr. King's death. Contrasted with Kennedy's optimism and wisdom are Jerry Falwell Jr., pastor Jamal Bryant, Randy Marsh from South Park and 6th century philosopher Aeschylus.
It is a multi-genre mix which features hip hop, electronic music and funk among others.
Tracklist
Flying Lotus – Siren Song (Stan Forbee remix)
Brother Ali – Uncle Sam Goddamn
Alan Parker – Border Incident
The Black Angels – Young Dead Men
Clipse – Kinda Like a Big Deal
Blu Mar Ten – All or Nothing (Conrank remix)
Dumbfoundead & DJ Zo – Crushing Limbs
DJ Shadow – Midnight in a Perfect World
Sampled on this Mix
Download
8|8 Anger: 2016 U.S. Politics
Art & Description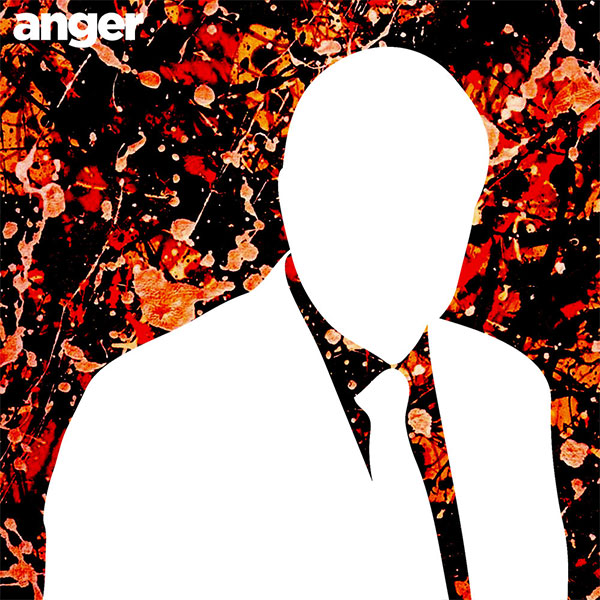 This is the second mix that I created for the 8|8 project, the first being Grand Imperial Mystic. As you can probably tell, there is a Donald Trump theme to this mix, as this was recorded the week that Sarah Palin endorsed Trump. From both sides of the political aisle there was palpable discontent.
This theme was not particularly easy because it demanded striking a balance between anger and music that I would want to listen to. I do not listen to much angry music. It was a fun project which forced me to go slightly outside of my musical comfort zone. It includes a lot of inside jokes and a few film references.
Tracklist
Black Sun Empire – Wasteland (feat. SPL)
Bob Dylan – Masters of War
Bassnectar – Seek & Destroy (Remix)
Metallica – Seek & Destroy
Black Flag – Rise Above
The Eagles – Peaceful Easy Feeling
Carly Simon & James Taylor – Mockingbird
John Lennon – Gimme Some Truth
Sampled on this Mix
Download
Downtempo Pilots: A Trip Hop Journey
Art & Description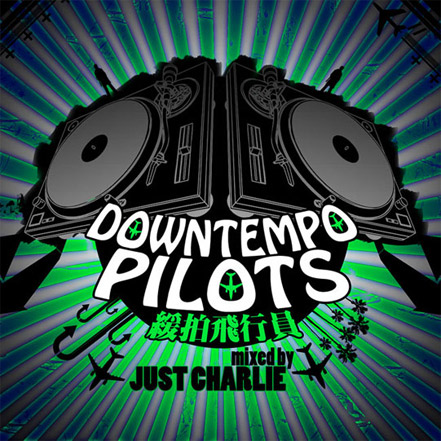 In 2006, I teamed up with Toronto-based DJ and producer "Smokey" to host a series of downtempo events at the Hemp House in Chengdu. At the second Downtempo Pilots event, the two of us recorded our own mix cd's and gave away 100 copies each. This is my Downtempo Pilots mix: an elite selection of trip hop, lounge, and downtempo.
Tracklist
Ini – Microphone Wanderlust
Thievery Corporation – Until The Morning (Rewound Remix)
Wagon Christ – Boney L
Sneaker Pimps – 6 Underground
Coldcut – Eine Kleine Hed Musick
Bonobo – Noctuary
Ini – Center of Attention
DJ Krush – Kemuri
The Cinematic Orchestra – Channel 1 Suite
Erykah Badu – Back In The Day
The Foreign Exchange – Nic's Groove
Cujo – Break Charmer
Wu Tang Clan – Can It All Be So Simple
Blockhead – You¡¯ve Got Maelstrom
Amon Tobin – Micro People
Danny Breaks – Astral Vibes (Zoostrumental)
Riton – Put That On My Momma
Extended Spirit – Illicity Pt. 1
RJD2 – Rain
Thunderball – On The Sly
Moby – Porcelain
AIM – Good Disease
Download
Hip Hop Heroes: Golden Age Hip Hop Forever
Art & Description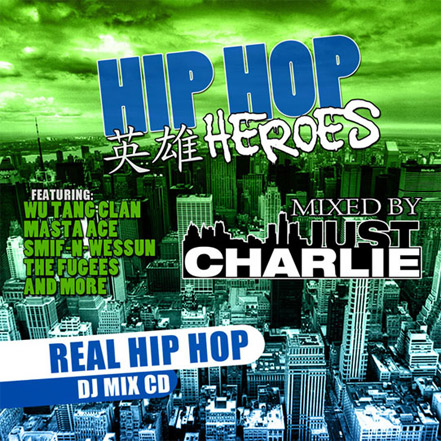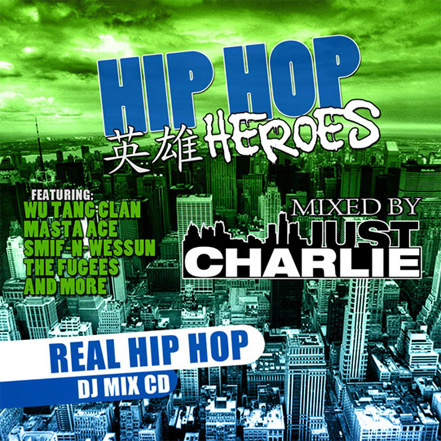 After receiving the 100th request for "It's your birthday" (hint: 50 Cent) in Chinese clubs, I knew I had to record and distribute a golden-age hip hop mix to distribute among Chinese hip hop fans. This is it. I tear through 40+ tracks in one hour, mixing and scratching through the entire thing. If you know, you know. Check the tracklist below.
Tracklist
Just Charlie Intro
Lord Finesse – Hip 2 Da Game (Remix)
Notorious BIG – Warning
Wu Tang Clan – La Saga
Smif n wessun – Bucktown
Big L – MVP (Remix)
Masta Ace – Brooklyn Masala
A Tribe Called Quest – Find a Way
Talib Kweli – Get By
Craig Mack – Flava In Ya Ear (Remix)
The GZA – Dual of the Iron Mic
Nas – Life's a Bitch (Remix Feat. AZ)
Jedi Mind Tricks – Heavenly Divine
Mos Def – Brooklyn
Busta Rhymes – Woo Hah
RJD2 & Atmosphere – Final Frontier
The Fugees – Ready or Not
Cunninglynguists – America Loves Gangsters
Warren G – Regulate
Snoop Dogg – Murder Was the Case
Mobb Deep – Survival of the Fittest
DMX – Damien
Tupac – I Get Around
The Lost Boyz – Music Makes Me High
Saigon – Didundidunt
Cyne – Nothing's Sacred
Jeru – Return of the Crooklyn Dodger
Das EFX – They Want EFX
Dilated Peoples – Heavy Rotation
Ice-T – Colors
Black Moon – Who Got Da Props
Ol' Dirty Bastard – Shimmy Shimmy Ya
Dr Dre – Nuthin' But a G Thang
Pete Rock – T.R.O.Y.
Coolio – Fantastic Voyage
House of Pain – Jump Around (Remix)
Souls of Mischief – 93′ till Infinity
Beastie Boys – Get It Together
Hunters & Gatherers – Bay Shit
Outkast – Rosa Parks
Slick Rick – Children's Story
Ini Kamoze – Here Comes the Hot Stepper
Naughty By Nature – Hip Hop Hooray
Hunters & Gatherers – Conscious Observer
Download
Marked 4 Death: Gangsta Rap Saga
Art & Description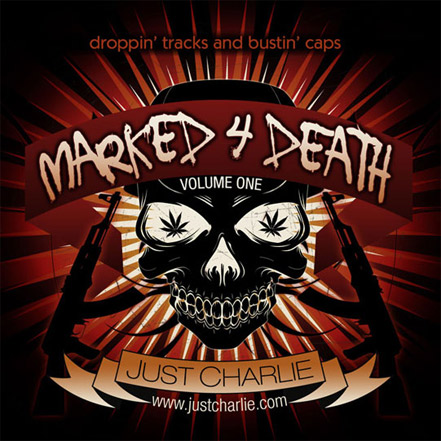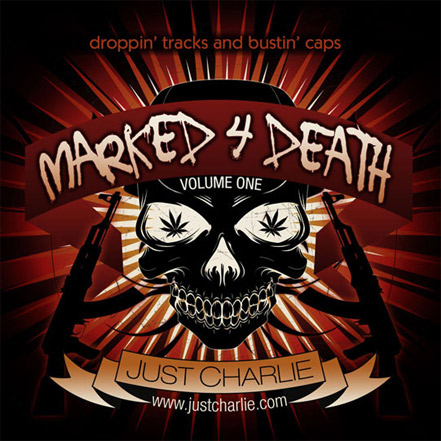 Marked 4 Death is an homage to rhythm and urban chaos in the United States' major cities. When Washington DC and Detroit vied for most violent city in the nation in the 1990's, it wasn't just an epidemic: it was a culture with its own soundtrack.
Tracklist
Everyone's a Target Intro
Too $hort – The Ghetto
Mobb Deep – Survival of the Fittest / Hell on Earth
Deda – Marked4Death
Notorious BIG – Who Shot Ya
Warren G – Regulate
2Pac – Hit Em Up
Dr. Dre – Natural Born Killaz
Saigon – War (Remix)
Scarface – I Seen a Man Die
Eazy-e – Boyz N the Hood
Clipse – Virginia
Coolio – Gangsta's Paradise
Ice Cube – Amerikkka's Most Wanted
Cypress Hill – How I Could Just Kill a Man
N.W.A. – Straight Outta Compton
UGK – Die One Day
Download
The Source Code: Inside Drum & Bass
Art & Description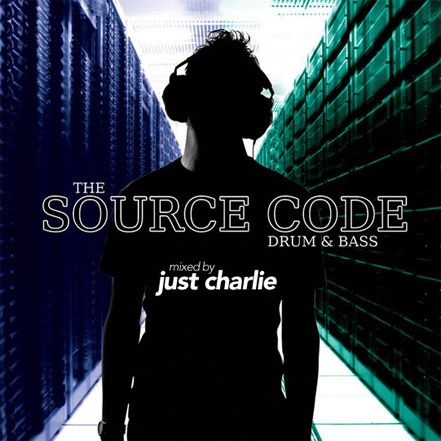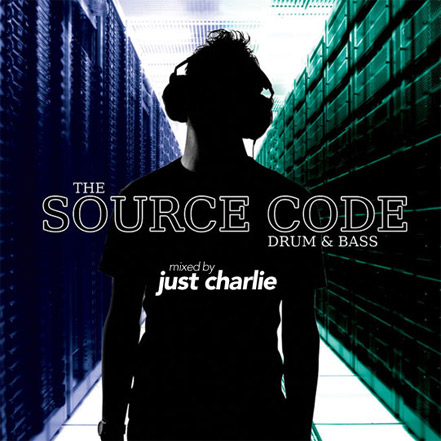 A healthy mix of all things drum & bass, from Dillinja rinse outs to lush atmopsheric tunes from the likes of Polar and Cartridge. Recorded in Bangkok, Thailand 2008 and broadcast on local radio.
Tracklist
Klute – Song Seller
D-Bridge – True Romance
Blu Mar Ten – Blurunner
Future Engineers – Shattered
Cartridge – Another Way
USB – The Swallow
Future Prophecies – Illusion of Time
Break – Extreme Moments
Dom & Roland – Can't Punish Me
Amit – Village Folk
Polar – 7th Avenue
Sonic – What U Do 2 Me
Klute – Part of Me
TC & Distorted Minds – Compton
/ Dillinja – All Aboard (Double Drop)
Cause 4 Concern – Moongerm
Origin Unknown – Grudge Match
Optical – The Shining
Juju – The Summer
Use of Weapons – Mojo Woman
Download
Vampire Hunter Disco: Upbeat Electronic
Art & Description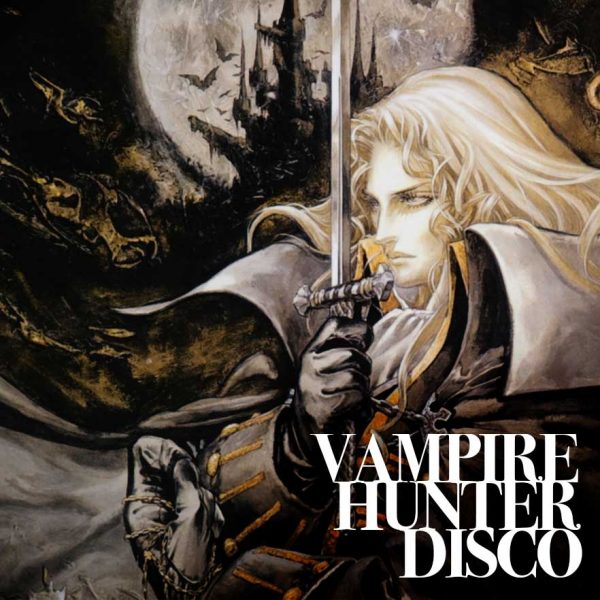 In the Spring of 2015 I started a new project with a friend called the Chengdu Gaming Federation, which was a social gaming event. After a few months of playing a random assortment of music and feeling out what worked best for the event, I made this upbeat electronic mix infused with video game samples.
Tracklist
Ronnie Jones – Video Games
Gigamesh – Enjoy (Oliver Remix)
Daphni – Cos-Ber-Zam Ne Noya
DJ Mehdi – Boggin'
James Brown – Cold Swear (Japan Mix)
Brother Soul – Cookies
Mark Jones – 5 South (feat. Brasstracks)
Mix Chopin – Ecliptic
Sade – Smooth Operator
Boston & Malente – Higher
Classixx – I'll Get You (fear. Jeppe)
Mr. Scruff – Get a Move On
Daft Punk – Burnin'
Teddy Douglas & Lous Radio – The Violin
Aphex Twin – Windowlicker
Download
The Chinese Connection: Future & Past House
Art & Description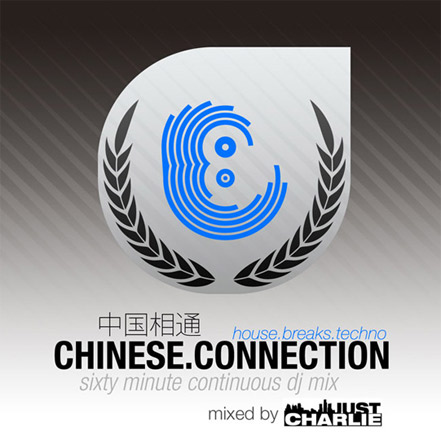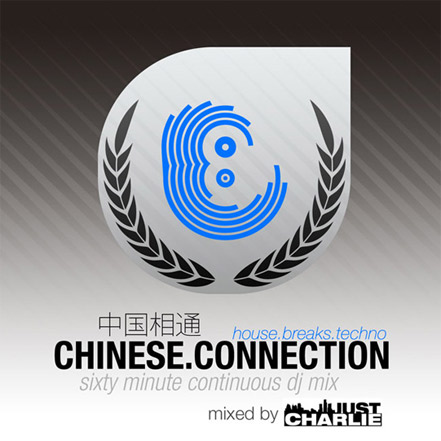 A house and breaks mix which harkens to the late 1990's when I was introduced to the DJ'ing game. I was raised on Gene Farris, DJ Dan, and Armand Van Helden and that sound is carried forth into the next decade. Timeless tunes in this mix which anyone familiar with house music in the 1990's will know and love.
I recorded this mix after touring around China for a year and finding that hip hop is often difficult to for Chinese audiences (which typically do not speak English) to grasp.
Tracklist
Shawn Ward – Azul
Armand Van Helden – Flowers
Teddy Douglas & Louis Radio – The Violin
Deep House Soldiers – In My Bag (ECB Remix)
Angel Alanis – Musica Del Rio Chicago
Buckethead – The Bomb
Armand Van Helden – The Boogie Monster
DJ Icey – Underground Stylez
Daft Punk – Around the World
Basement Jaxx – Rendez Vu
Paul Johnson – Get Get Down
Armand Van Helden – Psychic Bounty Killaz
Axwell – Transatlantic Flight
Novy vs Eniac – Pumpin'
Prodigy – Narayan
Dogzilla feat. SKB – Big Chat
Tocadisco – Body Language (Remix)
Ricky Stone – Shanghai Taxi
Fred Everything – Studio C
John Tejada – The End of It All
Download